Big Bucks The Benoit Way: Secrets From America's First Family of Whitetail Hunting
By following the legendary Benoit family, learn to track and harvest the biggest whitetail bucks on a consistent basis. The full color photography and time tested methods explained will gain any hunter the advantage over whitetails, and the bragging rights over deep camp.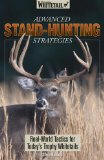 Advanced Stand-Hunting Strategies: Real-World Tactics for Today's Trophy Whitetails
"A no BS guide to where to put stands for every phase of season. After reading it, you know how to identify all 7 stages, where the best spots are for each, how to find them and why you need to be there. Reading this book, you learn fast that this guy knows what he is talking about. The chapters on mistakes and tips are very good to".