Life in Floyd County Tx 1905 to 1964
Floyd County, Texas 1905 to 1964 as pictured in archived government photographs, vintage postcards, old school yearbooks and newspapers.
Antelope School, Class of 1936 -1937 Floyd County Texas
The Antelope School was located south of Doughtery in Southeast Floyd County.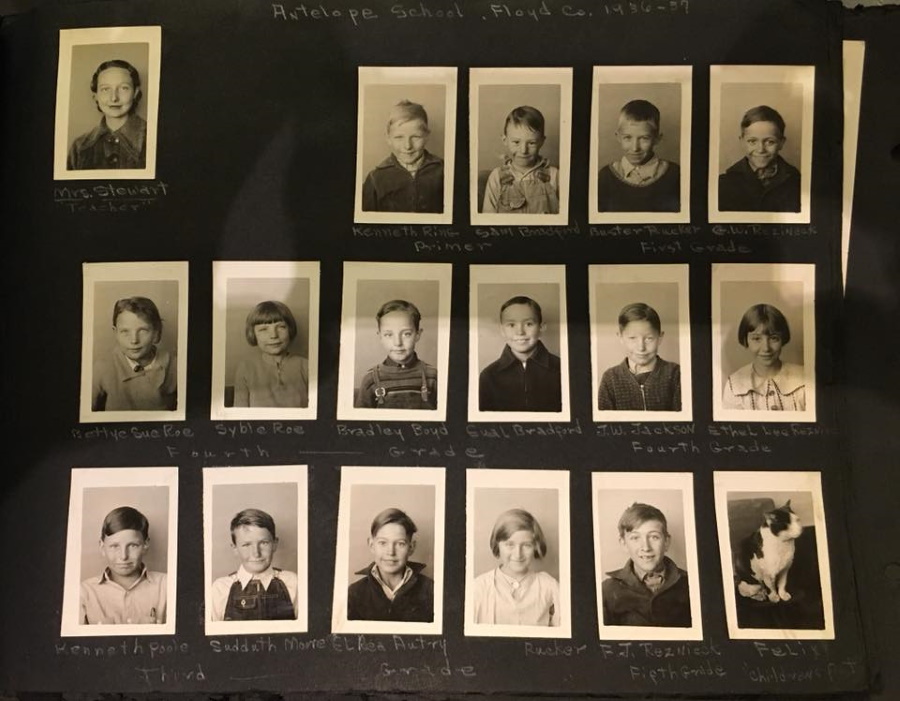 Grades: Primer through fifth grade.
Mrs. Stewart, Kenneth Ring, Sam Bradford, Buster Rucker, G.W. Rezineck, Bettye Sue Roe, Syble Roe, Bradley Boyd, Eual Bradford, J.W. Jackson, Ethel Lee Reznieck, Kenneth Poole, Sudduth Moore, Elrea Autry, (unnamed) Rucker, F.J. Reznieck and Felix (children's cat)
Books About Floyd County People and Places

History Of Floyd County 1876-1979
Walking From Lockney To Jerusalem - by Coy Reece Holley from Lockney Texas
One corner of Heaven - by Blanche Scott Rutherford - memoir of life in Floyd County 1888 - 1964
Floyd County Cookbooks
Floyd County Yearbooks - Floydada and Lockney Schools
Books by Authors from Floyd County Texas
Floyd County Treasures

Rare Artifacts, Memorabilia, Ancestry and History Records from Floydada, Lockney, Aiken, Barwise, Dougherty and South Plains, Texas