Bandera County Unclaimed Estates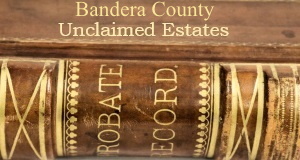 Unclaimed estates in Bandera, Vanderpool, Lakehills, Pipe Creek and Tarpley Texas have $49,689 due heirs and beneficiaries.
NOTE: This report is provided free with the sincere hope the rightful heirs will claim their inheritance. It is not an offer for housing or credit. The word estate as used here, refers to assets left by deceased people to their heirs and is not a reference to real estate. There is a link at the bottom where you can search by individual deceased name and file a claim for unclaimed property with the Texas Comptroller.
| | |
| --- | --- |
| Know the Heirs? Let them know | |
| | | |
| --- | --- | --- |
| Estate of Alden Luce | $15,619 | Bandera |
| Estate of Joe W Jones | $4,871 | Bandera |
| Estate of David L Hopkins | $4,543 | Bandera |
| Dixie F Kelly Estate | $4,305 | Vanderpool |
| Estate of Yvonne Miller | $3,000 | Pipe Creek |
| Estate of George A Enderson | $2,625 | Lakehills |
| Estate of Homer Deviney | $1,691 | Bandera |
| James Pettit Estate | $1,462 | Bandera |
| Jacquelynn Kyle Life Estate | $1,292 | Pipe Creek |
| Milton E Hise Estate | $1,079 | Lakehills |
| Estate of Gonzalez | $1,000 | Pipe Creek |
| Doris Wickliffe Estate | $848 | Bandera |
| Anna K Janssen Life Estate | $706 | Bandera |
| Estate of Lynn Ellis | $565 | Bandera |
| Estate of Monnie B Dickey | $503 | Bandera |
| Lillian Key Boren Estate | $464 | Bandera |
| Richard W Osgood Estate | $396 | Pipe Creek |
| Estate of Darrell R Jordan | $301 | Bandera |
| Pat Godkin Estate | $286 | Pipe Creek |
| W T Skinner Estate | $243 | Pipe Creek |
| Harvey Sab Estate | $238 | Bandera |
| Jr Berry Estate | $223 | Bandera |
| Arthur M Holt Estate | $222 | Lakehills |
| Estate of Glinda Pylate | $175 | Bandera |
| A A Reed Estate | $164 | Bandera |
| Mildred Schenkat Estate | $162 | Lakehills |
| Estate of Dorothy Short | $150 | Lakehills |
| H A Monroe Estate | $144 | Bandera |
| Estate of Antonia Vera Franco | $128 | Lakehills |
| V C Harrell Estate | $126 | Bandera |
| Clyde B Gardenier Estate | $124 | Bandera |
| Charles Mc Hugo Estate | $120 | Bandera |
| Glen O Sescila Estate | $118 | Lakehills |
| Frances Padula Estate | $114 | Bandera |
| Wm M Ohlenburger Estate | $109 | Pipe Creek |
| Jack R Chafin Estate | $108 | Bandera |
| A B Thompson Estate | $102 | Bandera |
| Elwin E Yose Estate | $97 | Pipe Creek |
| Arthur R Vangsness Estate Trust | $88 | Bandera |
| Azilee C Mrs Heinen Estate | $87 | Bandera |
| Estate of Merlene Childers | $82 | Bandera |
| Estate of Doug Livingston | $75 | Bandera |
| Estate of M Ellis | $70 | Bandera |
| Zelda Mrs Vawter Estate | $64 | Bandera |
| Loius Rodriquez Estate | $63 | Bandera |
| Millard W Judson Estate | $61 | Bandera |
| Estate of Rucker | $57 | Bandera |
| Gertrude Mrs Moore Estate | $56 | Bandera |
| Estate of Ethel Elizabeth Nicholas | $52 | Pipe Creek |
| Estate of L Rugh | $50 | Tarpley |
| Estate of Jacobson, Linda L | $49 | Lakehills |
| Estate of Ethel M Garner | $45 | Bandera |
| Harry C Estate Freeman | $39 | Pipe Creek |
| Estate of Rex M Emmons | $38 | Pipe Creek |
| Estate of Adolfo Rivera | $35 | Bandera |
| Estate of Adolfo Rivera | $35 | Bandera |
| William H Syfrett Estate | $33 | Bandera |