Famous People from Midland County Texas
Barbara Bush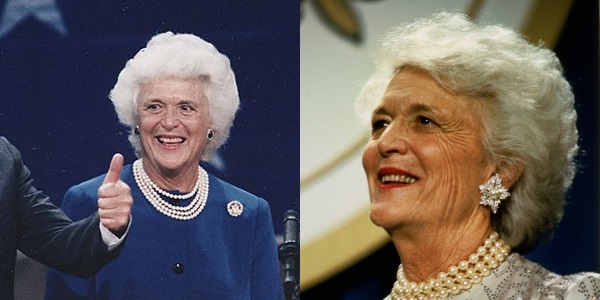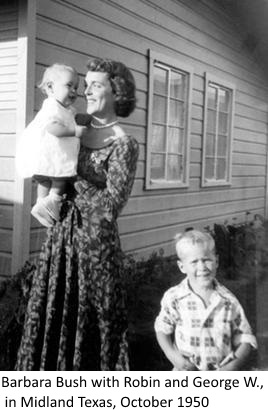 Barbara Bush (Barbara Pierce) was born at New York–Presbyterian Hospital Queens on East 15th Street in Manhattan, New York, on June 8, 1925. She met George Herbert Walker Bush at the age of sixteen, and the two married in Rye, New York in 1945.
George and Barbara had their first child while George was a student at Yale University. The young family soon moved to Odessa, Texas, where George entered the oil business. They moved to in Midland, Texas, in 1950. Their second son, Jeb was born on February 11, 1953; as George Bush entered political life, Barbara raised their children. While in Texas, in 1959, George Bush was elected Harris County Republican Party chairman, in the first of what would become many elections. His first run for a prominent political office was in 1964, for U.S. Senator from Texas and although he lost, the exposure of the Bush family put George and Barbara Bush on the national scene.
Resources:
Barbara Bush Items
on eBay
Books about Midland County People and Places

The Eddie Trace Story: A legend in the rowdy times of 1960's Midland, Texas.
A History of Character: The Story of Midland, Texas
A Red Raider Officer's Diary during WWII by Carrol G Henry from Midland Texas
The Pioneer History of Midland County, Texas 1880-1926
The Rainbow's Shadow: Untold Stories of the Baby Jessica Rescue and the Tragedies that Followed
Finding Will: When a toddler disappears in Midland, Texas.
Historic Treasures from Midland County Texas

Rare Artifacts, Books, Memorabilia and Historical Documents from Midland Texas