Davick Services on Facebook
True Stories of Amazing People and Places in Texas
Books about Taylor County, Abilene Texas
These hard to find books are perfect for anyone interested in the history of Taylor County and the people from Abilene, Tuscola, Tye, Buffalo Gap, Impact, Lawn, Merkel or Trent Texas.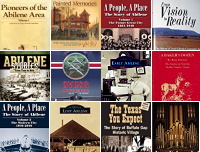 This site contains affiliate links to products. We may receive a commission for purchases made through these links. As an Amazon Associate we earn from qualifying purchases.
Abilene Stories: From Then to Now
A collection of fascinating and colorful stories spanning the history of Abilene, Texas.
Although Abilene has long lived in the shadows of the literary limelight, it has not been for a lack of good writing, good writers, and interesting stories. Now coming out of the shadows, ''Abilene Stories: From Then to Now'' offers a community scrapbook, a gathering of the civic congregation where more than a hundred friends have stopped by for a visit. The laughter is heavy and the smiles broad as stories are told and memories jogged. . . . Read more
Catclaw Country: An Informal History of Abilene in West Texas
by Katharyn Duff with Betty Kay Seibt
Contents include: A land long neglected, some first families, a town on the prairie, wrestling with demon rum, culture comes to Catclaw, Abilene's churches, schools, rolling stock, jazz age to depression, military influence, petroleum heritage, Abilene at century II, census of 1880, marriage licenses 1878-1886, business directory 1883, first Abilene high school graduating class, charter members for Abilene churches, oldest federated study club in Texas, city directory 1905 . . . Read more
Abilene on Catclaw Creek: A Profile of a West Texas Town
by Katharyn Duff
Team of the Century: The Greatest High School Football Team in Texas
Fifty years ago Abilene High School, under legendary Coach Chuck Moser, became a football dynasty in Texas. Moser moved to Abilene in 1953 at age thirty-four. What followed were seven of the most amazing years in the rich history of Texas high school football. The 1954, 1955, and 1956 teams won state championships. From 1954 to 1957 the Eagles won an incredible forty-nine consecutive games. Abilene captured six district titles in a row in a rugged West Texas league . . . Read more Look inside
The Lonesome Plains: Death and Revival on an American Frontier
Loneliness pervaded the lives of pioneers on the American plains, including the empty expanses of West Texas.
"More renowned as the U.S. Weather Bureau's chief meteorologist in Galveston during the fatefull 1900 hurricane, Isaac m. Cline experienced the plains hot winds while stationed in Abilene, Texas, in 1886. These hot currents left swaths in fields that looked burned by fire . . . " Read more, Look inside
From the Cotton Fields to a College Professor: My Life's Experience
Dr. Joe H. Alcorta was born in Novice, Texas, and at the age of two months, his parents took him to Monterrey, Mexico. For seven years, he lived in Mexico. Upon his return, he graduated from Olton High School, and then he received his bachelor's degree from Hardin-Simmons University. He obtained his master's degree from Howard Payne University and earned his PhD degree from Texas Tech in Lubbock, Texas. He has served on many city boards, and he was elected to The Abilene City Council for two terms . . . Read more Look inside
Buffalo Days: Stories from J. Wright Mooar
by James Winford Hunt - first President of McMurry College in Abilene
J. Wright Mooar tells the story of the buffalo hunter, from the hunter's perspective, in this first-person account published more than seventy years ago.
"James Winford Hunt moved with his parents to the Texas Panhandle in 1881. He worked on a ranch until he could save enough money to purchase printing equipment. When he did, he started the Press Leader in Lubbock. He then moved his publishing venture to Plainview, establishing the Texan Press . . . " Read more Look inside
The Goddess of War, A True Story of Passion, Betrayal and Murder in the Old West
John Wesley Hardin is the most famous gunfighter of the American Wild West. The subject of conversations from the Mexican border to the rowdy saloons of Kansas, he was the greatest celebrity of the age. He wrote an autobiography, but he only told what he wanted known, and few have researched beyond that. Today, Hardin is an enigma. Part of the mystery is his disastrous relationship with Helen Beulah Mrose, yet she has not been researched at all. Until now. The author names Taylor County courthouse records as a primary source for this book . . . . . . Read more Look inside
They Called Them Soldier Boys: A Texas Infantry Regiment in World War I
They Called Them Soldier Boys offers an in-depth study of soldiers of the Texas National Guardís Seventh Texas Infantry Regiment in World War I, through their recruitment, training, journey to France, combat, and their return home. Gregory W. Ball focuses on the fourteen counties in North, Northwest, and West Texas where officers recruited the regimentís soldiers in the summer of 1917.
"For example, the regimental Headquarters Company consisted of Captain Wagstaff's Taylor County Company and " ... Read more Look inside
Pioneer Days... Two Views
Early Days in West Texas and Recollections of Miss Tommie Clack
by Kathryn Duff & Betty Kay Seibt Mary Hampton Clack
A People, A Place:

The Story of Abilene Volume I; The Future Great City 1881-1940

Early biographers of Abilene, the present author included, laid heavy emphasis on "the people," the human element in the establishment and continuing life of the city. But the geographical characteristics of "the place" is also important in its creation, its history, and its future. The intertwining of these two themes dictated much of the story of the town called Abilene, Texas . . . . Read more
A People, A Place: The Story of Abilene Volume 2: The Modern City, 1940-2010
In 1940, Abilene, Texas was just an overgrown country town of some 25,000 souls. World War II wrought a permanent change through the advent of a major army training camp housing 60,000 troops. Although the base closed at the end of the war, the city soon attracted an air force base that continued to leaven the community. Over the next seventy years, Abilene grew to be home to nearly 120,000 citizens. Population growth carried with it the need for geographic expansion, infrastructure upgrade, and economic diversification, but also unimaginable cultural change . . . Read more
Lost Abilene
In 1881, the Texas & Pacific Railroad described Abilene as the "Future Great City of the West." While the train line was laying rails west out of Fort Worth, a group of ranchers, wanting the new town to become a prominent cattle-shipping point, selected the name Abilene after Abilene, Kansas, which was a main cattle-shipping town in the 1870s. With the arrival of the railroad to Abilene, this part of Texas opened up for settlement. Families rushed . . . Read more
Early Abilene (Images of America)
During the 1870s, there was wondrous change in West Texas. The area was ripe for settlement, and as the Texas and Pacific Railroad pushed west from Fort Worth, towns began springing up along the tracks. Ranchers coming to the area took advantage of the vast grasslands, and the new arrival of settlers was the beginning of a town named Abilene. Deriving its namesake from the town of Abilene, Kansas, the locals hoped the city would become a shipping point for cattle on their way to eastern markets. . . . Read more
Text, Image, and Christians in the Graeco-Roman World: A Festschrift in Honor of David Lee Balch
Twenty-four scholars join their efforts to congratulate David Lee Balch for a long career of dedication to scholarship and teaching. "Professor Balch was born in West Texas in 1942 and attended Pampa High School in Pampa, Texas. His educational journey is astounding and extends from Abilene Christian University in Texas, where he received a Bachelor of Arts in . . . " Read more Look inside
Life in the Dweeb Lane - Memoirs of Time Spent on the Dork Side
by D. Earl Kelly
"But, it was all moot considering my parents moved at mid-term of my senior year to Abilene, Texas which was large enough to make my home town look like an ant farm. So, there i was. The new kid at a huge new school . . . Read more
Baker's Dozen: We Were Thirteen, the Caseys of Tuscola, Taylor County Texas
Table of Contents
1. The Casey Clan
2. Taylor County, Texas
3. The Tuscola Valley, Early Settlers
4. Tuscola, Texas . . . Read more
The family of Bennie Gray Halsted & Alpha Arvilla Ohlhausen
Sheriff of Armstrong County, Texas, Sharecrop farmers of Taylor County, Texas, ranchers of Kerr County, Texas
The Texas You Expect: The Story of Buffalo Gap Historic Village
The Buffalo Gap Historic Village, in Buffalo Gap, Texas, got its start in 1956 as the "Ernie Wilson Museum of the Old West" and was housed in the original Taylor County Courthouse. Over the next fifty years, however, the museum evolved into a full-fledged historic village, boasting twenty buildings and more than 9,000 artifacts. With this transformation, the historic village also began to tell a story about the history of a time period--the critical decades between 1875 and 1925. . . . Read more
A History Of Texas And Texans; Volume 5
"Her father landed with his family at Galveston about twenty-four hours before the battle of San Jacinto, and he hurried to the spot, joining Houston's army and took part in the glorious battle which gave Texas its independence. Later he spent his career as a farmer near Hempstead in Waller County. Mr. and Mrs.. Harvey's children were: Mrs. Lottie C. Dabney, who died in San Angelo; Peter Harvey, who died in Nugent Texas; and Mrs. L.B. Creath, who is still living and a resident of Abilene, Texas" . . . . Read more
Judge Legett of Abilene
A Texas Frontier Profile (Centennial series of the Association of Former Students, Texas A & M University) . . . Read more
Love Unbounded:

The Influence of First Baptist Church on Abilene, Texas

In 1881, six months after the establishment of Abilene, Texas, seventeen residents met at the local public school building and chartered First Baptist Church of Abilene. These founders instilled a mission-minded focus in the new institution. While First Baptist was not the only institution that served Abilene, the churchís importance cannot be overlooked. For over 125 years, First Baptist Church of Abilene has played a prominent role in the Abilene community . . . Read more
Abilene Landmarks:

An Illustrated Tour: The Story of Abilene as told through 100 of its most historic buildings

Every city has a look and feel that informs how people respond to it. Visitors react to the skyline, clean streets, traffic patterns and the like, while its citizens speak of civic pride, heritage, and spirit. This love of place illustrates the passions and values of the society that fosters it. Some economists and thinkers refer to social capital, others cultural capital, when discussing the value added by the appreciation of the history and heritage of a community. The more people know about their hometown, the more they support it, love it, and keep it. The settlement that sprang up . . . Read more
The Romance of Hardin-Simmons University
The sixteen chapters of this book were originally a series of sixteen letters in which Mr. Featherston gave human interest insights into the history, spirit, and character of Hardin-Simons University . . . Read more
The family of Bennie Gray Halsted & Alpha Arvilla Ohlhausen:

Sharecrop farmers of Taylor County, Texas, ranchers of Kerr County, Texas, Sheriff of Armstrong County, Texas

. . . Read more
Sketches of History: Methodist in South Taylor County Texas
by Wayne L. Burkey, Pastor Tuscola United Methodist Church . . . Read more
1975 Yearbook: Abilene Christian School, Abilene, Texas
This copy is a soft cover reprint of a previously owned high school yearbook. Whether you no longer have your own copy or want to surprise someone with a unique gift, the memories in this yearbook are sure to make someone smile! All the pages and images are reproduced . . . Read more
August Harvest (A Collection of Sandusky Samplin's)
August Harvest (A Collection of Sandusky Samplin's), edited by Marilyn Latimer Tittle and Linda Latimer Faulkner. Spiral-bound cookbook published by G & R Publishing Co. From or for the 1995 "Sandusky Harvests" Sandusky family reunion in Merkel, Texas. Illustrated with the Sandusky coat of arms . . . Read more
Rose Hill Cemetery Records 1884-1986, Merkel, Taylor Co. Texas
by Becky Jacobs Rynders, West Texas Genealogical Society . . . Read more
Frontier Texas: History of a Borderland to 1880
The West Texas frontier--the area encompassing the region stretching from Fort Worth to the Caprock, from Palo Duro Canyon to the San Saba River--has been a crossroads of humanity for thousands of years. Each group of humans who trekked across its sun-drenched prairies had to contend with the challenges of life in an area that has always been a climatic, geographical, political, and cultural borderland . . . Read more
The History of Dyess Air Force Base: 1941 to the Present
The reader is led from the construction and World War II training operations through the Cold War with the Soviet Union, to bomber and missile nuclear alert, and to the transition of a world-wide conventional weapons response capability with the B-1B and air mobility options provided by the C-130 Hercules transport. The book includes a photo tour of the base as well as information on topics such as . . . Read more
From Vision to Reality: The History of Taylor Electric Cooperative, Inc 1939-2004
"When Abilene was established in 1881 as a center for shipping wool and cattle, little thought was given to improving the lives of those living in the surrounding ranching and farming communities that supplied the raw products that supported the local economy. Gradually, during the ensuing 58 years, the rural people began to dream of living with less drudgery, more conveniences, and a quality of life equal to that enjoyed by the people in the city. Then, in September 1939, bold steps . . . Read more
To Make a Long Story Short:
The Stories and Exploits of Gene Franklin Jackson
This collection of Gene's stories did not just happen. We all knew that he was a good story teller, because he would occasionally break out with, "Oh, that reminds me", and one of his many stories would evolve. Nearly every time someone would conclude, "We ought to record that!". . . Look inside
The Song in You: Finding Your Voice, Redefining Your Life
by Ladonna Gatlin
"Abilene , Texas, August 18, 1954. On their fourth try, Billie and Curley Gatlin finally welcomed a daught into the Gatlin Family... My Brother, Larry, Steve, and Rudy already performing veterans at ages six, four, and two, respectively, were crazy about me! Crazy might be a good word to describe the path my life has taken . . ." Read more
Pioneers of the Abilene Area - Volume 1
Painted Memories -- People, places, and moments from the easel of H.C. Zachary
The stories and paintings of H.C. Zachry. Nearly 200 pages of the paintings of the renowned artist from Abilene, Texas.
Abilene (Texas) High School Alumni Directory 1888-1994
by Abilene High School
See More Books about Abilene Texas (including yearbooks)
Related Articles

Taylor County Estates with Unclaimed Money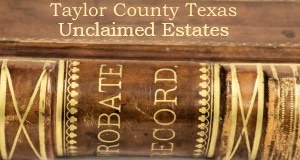 These Deceased Residents of Abilene, Tuscola, Tye, Buffalo Gap, Lawn, Merkel and Trent Left a total $456,200 in Unclaimed Money for their heirs. Please share this with your Family and Friends from Taylor County to let them know how to collect it from the Texas Comptroller's Office . . . see the list
Resources:

Davick Services on Facebook: True Stories of Amazing People and Places in Texas
What's your Favorite Book about a Texas County, Town, Person or Place? Here's our best reads list County by County






Taylor County Appraisal District
Taylor County TX Experts
Life in Taylor County Tx 1900 - 1950
Taylor County Unclaimed Estates
Taylor County Products
Taylor County People
Books about Abilene Texas