Davick Services on Facebook
True Stories of Amazing People and Places in Texas
Books About Andrews County Texas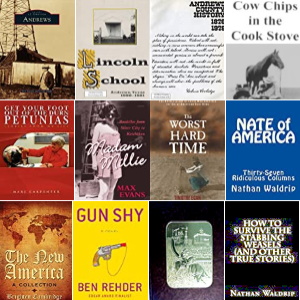 What's Your Favorite Book or article about an Andrews County Person, Place or Event? Here's some of ours about Andrews, KcKinney Acres, Coyote Corner, Fasken and Old Place Windmills
This site contains affiliate links to products. We may receive a commission for purchases made through these links. For Example: As an Amazon Associate we earn from qualifying purchases.
Andrews (Images of America)
Before the creation of the county in 1876 by the Texas legislature, the area had been largely ignored by state officials and avoided by ranchers and settlers because of its remoteness, scarcity of water, and attacks by local Native Americans. That all changed in 1875 after an expedition by U.S. cavalry troops led by Col. William R. Shafter opened the region up to settlers . . . Read more and Look inside
Lincoln School: Andrews, Texas 1950 - 1961
Lincoln School served black students in the community of Andrews, Texas. It was opened in 1950 until desegregation led to the school's closure in 1961. This book looks into the history of the school along with the faculty and students in attendance . . .
Andrews County History
The entire story of Andrews County, Texas from 1876 to 1978. Learn about Colonel Shafter's expedition in the region, an abandoned railroad from Midland, ranch and farm life in the desert, the discovery of oil, and major events that have shaped Andrews' history.
Madam Millie: Bordellos from Silver City to Ketchikan
" Millie heard back in Wink that the very next day Tad was sent to Andrews, Texas, where an elderly sheriff had shot one of the favorite local sons in an unavoidable dispute. Crowds were gathering in little bunches" . . . Read more Look inside
Get Your Foot Out of the Durn Petunias: Stories from My Life
"I remember one time when I was working for the newspaper in Andrews, Texas, there were some Andrews men killed in a private plane crash in Rockdale, Texas. I was assigned to fly down there with a private pilot and get pictures on the scene" . . . Read more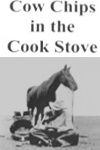 Cow Chips in the Cook Stove:
Tales from the Good Old Days in the Lower Texas Panhandle
Stories from the Texas plains and a peak over the shoulder of real cowboys and their struggles.
Nate of America: Thirty-Seven Ridiculous Columns
A collection of weekly columns that have appeared in the Andrews County News. The author is a teacher and former coach with multiple disabilities and a twisted sense of humor. You should buy him a burrito . . . Look inside
How to Survive the Stabbing Weasels and Other True Stories
How to Survive the Stabbing Weasels is a collection of hilarious and inspirational stories of dealing with and overcoming adversity. While in college, the author was diagnosed with a neurological condition and multiple brain tumors that left him deaf. He finished college to become a teacher and coach . . . Look inside
The Worst Hard Time:
The Untold Story of Those Who Survived the Great American Dust Bowl
Andrews County History 1876 - 1978
by Andrews County Heritage Committee
Andrews County, Texas History - Hundreds of Photographs - 488 Pages
The New America: A Collection
"The trip began by meeting relatives in Andrews, Texas and then all together driving overnight to Santa Fe, New Mexico for the ski trip. The adults were warm in the front of my dad's grey truck while the children were freezing in the back of a camper that was strapped over the back of the truck's bed" . . . Read more Look inside
Gun Shy: a Ben Rehder Novel
Found Inside:
"Try to become a star? Girls from Andrews, Texas, didn't do things like that. Girls from Andrews became waitresses or bank tellers or grocery clerks, and they married quiet, hardworking men who sometimes lost a finger or a toe out in the oilfield" . . . Read more Look inside
The Great House of God
by Max Lucado
I attended church with the son of the mayor. In Andrews, Texas, that's not much to boast about. Nevertheless the kid had clout that most of us didn't. "My father has an office at the courthouse", he could clam . . . Read more Look inside
Lone Star Noir (Akashic Noir)
If everything is bigger in Texas, then that includes the boldness of the criminals who call the state home. Think of the book as a sort of criminal travelogue of Texas. In Lone Star Noir, you'll find stories by James Crumley, Joe R. Lansdale, Claudia Smith, Ito Romo, Luis Alberto Urrea, David Corbett, George Wier (Duckweed: Littlefield Texas) , Sarah Cortez, Jesse Sublett, Dean James, Tim Tingle, Milton T. Burton, Lisa Sandlin, Jessica Powers (Preacher's Kid: Andrews Texas), and Bobby Byrd. . . . Read more Look Inside
Books by Authors from Andrews County
Elmer Kelton
Max Lucado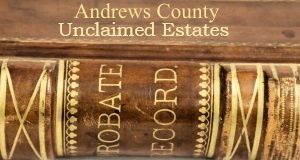 Andrews County Unclaimed Estates
These Deceased Residents of Andrews County Left a total $13,681 in Unclaimed Money for their heirs . . . see the list

What's your Favorite Book about a Texas County, Town, Person or Place? Here's our best reads list County by County






Andrews County Appraisal District
Andrews County People
Andrews County TX Experts
Andrews County Treasure For Sale
Andrews County Unclaimed Money
Andrews County Unclaimed Estates
Books about Andrews County Texas