News for Public Officials
Books About Bandera County Texas People and Places
What's Your Favorite Book, Author or Article about a Bandera County Person, Place or Event? Here are some of our favorites about Bandera, Lakehills, Lake Medina Shores, Bandera Falls, Pipe Creek, Tarpley and Vanderpool

This site contains affiliate links to products. We may receive a commission for purchases made through these links. For Example: As an Amazon Associate we earn from qualifying purchases.
The Ranger Companies Of Bandera County
This is a military history of the settlement of Bandera County. An across-section history of the Texas Rangers from the mid-1850s to the early 1880s, the story is mostly of rangers and Indians, but also of soldiers, settlers, lawmen, and outlaws . . . Read more
Bandera County
Located in the picturesque Texas Hill Country, Bandera County was named for nearby Bandera Pass, a naturally occurring passageway through the neighboring hills. Near the pass, the Medina River weaves its way through the county. In 1853, a group of settlers arrived and set up camp to make shingles from the huge cypress trees . . . Read more
The Trail Drivers of Texas: Interesting Sketches of Early Cowboys
These are the chronicles of the trail drivers of Texas those rugged men and, sometimes, women who drove cattle and horses up the trails from Texas to northern markets in the late 1800s.
"My brother and I purchased a pair of Mexican ponies, a new wagon and camping outfit and started for San Antonio. Near Burnett we met a man who had a ranch and some sheep in Bandera County, and went with him and bought six hundred head of sheep, thus embarking in the sheep business doing our own herding, shearing, cooking and washing. We had hard sledding for a long time, but finally achieved success. We moved our herd from Bandera County to the southeast corner of Atascosa County" . . . Read more Look inside
Wanted: Historic County Jails of Texas
"Texas Ranger Jim Gillett, reminiscing about 1877 events surrounding the old log structure said, "I remember a scout over in Bandera County. I one week's time, we caught ten or twelve fugitives and literally filled the little jail in Bandera." . . . " Read more Look inside
A Pictorial History of Bandera County
150 Years of Challenges and Courage, Champions and Characters . . . Read more
Love Found in Bandera, Texas
When Dale returns to Bandera, Texas for Christmas, all he expects is to spend time with his beloved dog Buck. However, running into Shanna, his high school sweetheart, reminds him of the time he has wasted and all he lost by running away on Christmas Eve nine years earlier . . . Read more
The Goddess of War, A True Story of Passion, Betrayal and Murder in the Old West
John Wesley Hardin is the most famous gunfighter of the American Wild West. The subject of conversations from the Mexican border to the rowdy saloons of Kansas, he was the greatest celebrity of the age. He wrote an autobiography, but he only told what he wanted known, and few have researched beyond that. Today, Hardin is an enigma. Part of the mystery is his disastrous relationship with Helen Beulah Mrose, yet she has not been researched at all. Until now. The author lists Bandera County courthouse records as a primary source for this book . . . . . . Read more Look inside
100 Years in Bandera ( Texas ) 1853-1953
a Story of Sturdy Pioneers, Their Struggles and Hardships and Their Heroic Achievements . . . Read more
The Bandera Brawl: A Judge Earl Stark Story
In Bandera for a trial, circuit-riding Judge Earl Stark volunteers to referee a prizefight between the local champion and a pugilist from out of town. Stark—who was once the shotgun-wielding Big Earl Stark, toughest stagecoach guard in Texas . . . Read more
Medina Lake
Surrounded by the beautiful Texas Hill Country, Medina Lake has a rich history of fortunes rising and falling as rapidly and unpredictably as the level of the lake. Completed in 1912, Medina Dam was, at the time, the largest concrete dam in Texas . . . Read more
MEDINA: A Family Saga in the Texas Hill Country (1936-1943)
. . . Read more
Jose Policarpo Rodriguez; His Life in His Own Words (1898)
To attempt to give the full experience and adventures of Jose Policarpo Rodriguez (1829–1914), one of the early pioneer citizens of Bandera county, Texas, would require more space than this description affords. He was a noted surveyor, scout, hunter, Indian fighter, preacher and ranchman. He grew up enduring Comanche raids, surveyed territory for the Republic of Texas and the United States Army, fought against warring Indians, and mapped settlements for German settlers in Texas. When he came . . . Read more
Bandera County Unclaimed Estates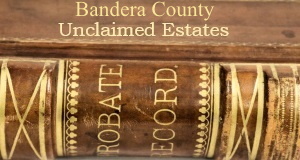 These deceased residents of Bandera, Medina, Vanderpool, Lakehills, Pipe Creek and Tarpley Texas left a total $49,689 in unclaimed money for their heirs. Know the heirs? See the list
What's your Favorite Book about a Texas County, Town, Person or Place? Here's our best reads list County by County






Bandera County Appraisal District
Bandera County News
Bandera County TX Experts
Gift Ideas from Bandera
Bandera County Unclaimed Estates
Books about Bandera County