Books about Bastrop County Texas
Books about Bastrop County Texas and people from Bastrop, Elgin, Smithville, Camp Swift, McDade and Wyldwood, Texas.
This site contains affiliate links to products. We may receive a commission for purchases made through these links. As an Amazon Associate we earn from qualifying purchases.
Select the photos below for more information about the individual book.
The Ranger Ideal Volume 2: Texas Rangers in the Hall of Fame, 1874-1930
"Mat Banks, a convicted horse thief, and Randall Lightfoot and Charles HIne, both incarcerated for theft and attempted murder, had escaped from the Travis County jain in early 1869. They remained at large until McNelly was ordered to find the fugitives and take them into custody. The captain, doubtless with a posse, cornered the three outlaws near San Fly in northern Bastrop County on July 23, 1870. Hine resisted arrest and " . . . Read more Look inside
The Goddess of War, A True Story of Passion, Betrayal and Murder in the Old West
John Wesley Hardin is the most famous gunfighter of the American Wild West. The subject of conversations from the Mexican border to the rowdy saloons of Kansas, he was the greatest celebrity of the age. He wrote an autobiography, but he only told what he wanted known, and few have researched beyond that. Today, Hardin is an enigma. Part of the mystery is his disastrous relationship with Helen Beulah Mrose, yet she has not been researched at all. Until now. The author lists Bastrop County courthouse records as a primary source for this book . . . . . . Read more Look inside
The Evolution of a State, or, Recollections of Old Texas Days
"Bastrop County suffered more from Indians during the year 1936 than for any other year of its history. I could mention numbers of its best men who were killed during that time. The return of the rangers, however, check the hostile incursions for a time, and people began to scatter out from the forts . . . " Read more Look inside
Cow Boys and Cattle Men: Class and Masculinities on the Texas Frontier, 1865-1900
"Bastrop County court records reveal the typical efforts to crack down on gamblers. From the late 1860s, by tar the most common offense was aggravated assault, with a few gambling cases each month. Beginning in July 1890, however, the authorities made a concerted effort to wipe out gambling in the county. On July 28, fourteen" . . . Read more Look inside
The Trail Drivers of Texas: Interesting Sketches of Early Cowboys
These are the chronicles of the trail drivers of Texas those rugged men and, sometimes, women who drove cattle and horses up the trails from Texas to northern markets in the late 1800s.
"During the fall and winter of 1880 I bought cattle in Bastrop and Lee Counties for Mr. Ellison. I the spring of that year I drove another herd of the Y cattle for him, making the start in April. This was a very dry year on the trail. While crossing the Washita, we broke a wagon wheel and had to use a pole drag for one hundred and fifty miles to Wolf Creek" . . . Read more Look inside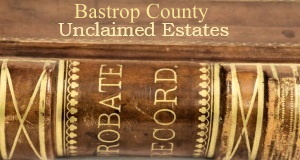 Bastrop County Unclaimed Estates
These Deceased Residents of Bastrop, Elgin, Smithville, McDade and Wyldwood Texas Left a total $108,251 in Unclaimed Money for their heirs. Know the Heirs? See the list
Bastrop County Items for Sale

Rare Artifacts, Memorabilia, Ancestry and History Records from Bastrop, Elgin, Smithville, Camp Swift, McDade and Wyldwood, Texas

Important: Tap or click the title (not the photo) for details on the items listed below. See More Bastrop County Items for Sale
Related Articles
















What's your Favorite Book about a Texas County, Town, Person or Place? Here's our best reads list County by County