News for Public Officials
Books and Articles About Brown County Texas

Good books and articles about the history, people and places of Brown County, Brownwood, Bangs, Early, Blanket, Lake Brownwood and Thunderbird Bay Texas.
Check Our List of Books About People and Places from Other Texas Counties Here
This site contains affiliate links to products. We may receive a commission for purchases made through these links. For Example: As an Amazon Associate we earn from qualifying purchases.
Brown County Texas

Something about Brown;: A history of Brown County, Texas

Texas Historical Markers: Brown County

A Pictorial History of Brown County: The Early Years

Frontier's Generation: The Pioneer History of Brown County with Sidelights on the Surrounding Territory

Pecan Valley Days (not pictured) by Tevis Clyde Smith -1956
From the Cotton Fields to a College Professor: My Life's Experience
Dr. Joe H. Alcorta was born in Novice, Texas in Coleman County, and at the age of two months, his parents took him to Monterrey, Mexico. For seven years, he lived in Mexico. Upon his return, he graduated from Olton High School, and then he received his bachelor's degree from Hardin-Simmons University in Brownwood. He obtained his master's degree from Howard Payne University and earned his PhD degree from Texas Tech in Lubbock, Texas. He has served on many city boards, and he was elected to The Abilene City Council for two terms . . . Read more Look inside
Brownwood

Freemasonry in Brownwood: A centennial history of Brownwood Lodge No. 279

Revival!: The Story of the Current Awakening in Brownwood, Ft. Worth, Wheaton, and Beyond

Brownwood High School Yearbooks

Rubber Guns: 'Bout A Little Texas Boy in a Texas 20's Town, by William Ellis from Brownwood

Hell under the Rising Sun: Texan POWs and the Building of the Burma-Thailand Death Railway

Justice For Emily: Novel set in Brownwood by Sandy Wolters

Brownwood Yearbooks - Brownwood High and Howard Payne yearbooks
Bangs, Texas

1965 Bangs High School - Dragon Yearbook
Blanket, Texas

1946 Blanket High School - Tiger Yearbook


Brown County Estates with Unclaimed Money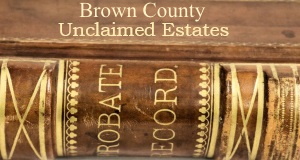 These Deceased Residents of Brown County Left a total $97,669 in Unclaimed Money for their heirs. Please share this with your family and friends from Early, Brownwood, Lake Brownwood, Bangs and Blanket to let them know they can claim their inheritance from the Texas Comptroller's Office. . . see the list
What's your Favorite Book about a Texas County, Town, Person or Place? Here's our best reads list County by County






Brown County Appraisal District
Brown County News
Brown County TX Experts
Brown County Products
Brown County Unclaimed Estates
Books about Brown County Texas