Davick Services on Facebook
True Stories of Amazing People and Places in Texas
Books About Crosby County Texas People, Places and Authors
What's Your Favorite Book about a Crosby County Person, Place or by a Crosby County Author? Here are some of our best reads by Crosby County authors and about people and places in Crosbyton, Ralls, Emma and Estacado Texas. Did we miss some good ones? What's your favorite?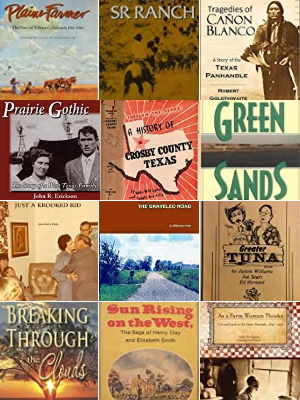 This site contains affiliate links to products. We may receive a commission for purchases made through these links. For Example: As an Amazon Associate we earn from qualifying purchases.
Tragedies of Cañon Blanco: A Story of the Texas Panhandle
Robert Goldthwaite Carter was a US Cavalry officer who participated in the American Civil War and Indian Wars thereafter. Carter would participate in a number of expeditions against the Comanche and other tribes in the Texas-area. It was during one of these campaigns in 1869 that he was awarded the Medal of Honor for his "most distinguished gallantry" against the Comanche in Blanco Canyon in present day Floyd and Crosby Counties . . . Read more Look inside
The McNeills' SR Ranch: 100 Years in Blanco Canyon
"Wife," one longtime resident of Blanco Canyon was overheard sighing, "we've spent most of our forty years here just waiting for a rain!" Blanco Canyon, on the edge of West Texas' Cap Rock, is a land of charm and brutality, generosity and denial, exquisite beauty after a rain and harsh death when the rains don't come. It is a land where over a hundred years ago one Captain J. C. McNeill started a cattle ranch in the mistaken hope that range and weather . . . Read more
Plains Farmer: The Diary of William G. Deloach, 1914-1964
In 1887 DeLoach moved by wagon with his parents from Georgia to Parker County, Texas. Eleven years later, at the age of eighteen, DeLoach made his way to the West Texas Plains and began working as a cowhand on the Two-Buckle Ranch in Crosby County , and in 1913 he moved his family in a covered wagon to Emma, also in Crosby County. On March 28, 1914, at the age of thirty-four, DeLoach made the first entry in his diary. After three years he moved on to other opportunities before settling on a farm near Sudan in Lamb County in 1925.
Estacado Cradle of Culture and Civilization on Staked Plains of Texas
Paris Cox, a young Quaker from Indiana came and surveyed the Plains for a suitable place to establish a Quaker colony. It was first named Marietta and was renamed Estacado when the post office was established Oct. 13, 1881. It became county seat of Crosby County and 10 surrounding counties were attached to the county for judicial purposes when the seat of government was set up in 1886. The town's population grew to about 600. There was a Junior College, residents were Quakers and non-Quakers, merchants, farmers, lawyers, politicians and small ranchers. It was the center of life and civilization and was recognized as the cradle of culture on the Texas Plains.
As A Farm Woman Thinks: Life and Land on the Texas High Plains, 1890–1960
by Nellie Witt Spikes
Nellie settled with her family in Emma (the once-thriving county seat) in Crosby County. At 18, she moved to a farm near the Cone community with her husband, Jeff Spikes, where they raised wheat, cotton and other crops for 43 years. In twenty-five years of syndicated columns in small-town Texas newspapers between 1930 and 1960, Nellie Witt Spikes described her life on the High Plains, harking back to earlier times and reminiscing about pioneer settlement, farm and small-town culture, women's work, and the natural history of the flatlands and canyons . . . Read more
Sun Rising on the West: The Saga of Henry Clay and Elizabeth Smith
More material has been written by and about Henry C. (Hank) Smith, pioneer extraordinary, and his gracious Scottish wife, Elizabeth Boyle (Aunt Hank) Smith, than any other two people in the early history of the South Plains. Magazine articles, articles in historical reviews, newspaper features and some references in early histories have all added to the knowledge about this pioneer couple. Then there were the writings of Uncle Hank and Aunt Hank themselves, and the scope of this story would have been much less complete had they not recorded at least part of . . . Read more
An Extraordinary Woman
"They had mules to pull the plows, a cow to give milk, pigs for meat and hens for eggs. She made her own blankets for warmth. She did not know how to complain. the did not have time for that. The children and her husband were her priorities. Inez lived to be 92 years old and is buried next to her husband in Ralls Texas . . . Look inside
Ella Elgar Bird Dumont: An Autobiography of a West Texas Pioneer

A crack shot, expert skinner and tanner, seamstress, sculptor, and later writer—a list that only hints at her intelligence and abilities—Ella Elgar Bird Dumont was one of those remarkable women who helped tame the Texas frontier

". . . came to Hank Smith's ranc in Blanco Canyon in northern Crosby County. Collinson was staying there following his leaving the buffalo camp on Tongue River. Upon discovering that Collinson knew . . . Read more Look inside
Breaking Through the Clouds
by Dannie Gregg and Jeremy A. Walker
With disarming honesty, Dannie Gregg shares the story of how she and her husband, Jordan, began building a life together, raising children, and standing firm in their faith as it was tested by the loss of their son, Cotton. Breaking Through the Clouds shares the hope that the Gregg family found as they grew closer to the Lord following Cotton's death . . . Read more
Greater Tuna
Jaston is the son of a West Texas farmer and a school teacher. His family moved to Olton, Texas, and then to Crosbyton, where he graduated from Crosbyton High School. Greater Tuna is an hilarious send-up of small town morals and mores among the upstanding citizens of Tuna, Texas' Greater Tuna is the first in a series of four comedic plays (followed by A Tuna Christmas, Red, White and Tuna, and Tuna Does Vegas), each set in the town of Tuna, Texas, the "third-smallest" town in the state. . Read more
Just a Krooked Kid
The Autobiography of Goodwin Hale
Goodwin was born in Spur Texas during the depression. He attended school in Crosbyton. Although he was born with the disabling condition Arthrogryposis, Goodwin Hale, with the encouragement of family and friends, determined to live as normal a life as possible. As a result, he completed college, law school, was a practicing attorney and once was a public official . . . Read more and Look inside
The Graveled Road
by Jo Wilkinson Hale
The 'graveled road' was, in the very beginning, a boundary or limitation of my activities, set by my Mother so that she would always know my whereabouts. It came to symbolize, to me, the huge boulders one encounters in life and the processes involved to overcome them, thereby creating a smooth 'graveled road'. The setting is life during the Great Depression . . . Read more
Green Sands: My Five Years in the Saudi Desert
When Martha Kirk left her small West Texas hometown in 1983 to move to the middle of the desert in Saudi Arabia, she began a dual life that lasted for five years. Her husband, Terry, was hired to manage a seven-thousand-acre wheat farm for a wealthy sheik, and Martha joined him six months later. The farm, located ninety miles from Riyadh, was isolated and lonely. Within the confines of the farm, Martha continued . . . Read more
Through the years;: A history of Crosby County, Texas
by Nellie Witt Spike
Thoroughly researched history of Crosby County and High Plains of Texas including extensive list of cattle brands and biographical sketches of the pioneers. Very scarce.
Daughters of Republic of Texas: Patriot Ancestor Album - Vol II
Mary Catherine Fox was born about 1873 and is listed in the 1920 Dickens County TX Census, her husband was Sam H. Kelsy. John Nathan "Nat" Fox was born Feb. 10, 1879 and is listed in the 1910 Crosby County Census with his family . . . Read more
Prairie Gothic: The Story of a West Texas Family
by John R Erickson
Erickson tells the story of his family history in the context of a specific place. This place, instrumental in shaping their lives, is the flatland prairie of northwestern Texas . . . One branch of Erickson's family, sturdy Quaker farmers from Ohio, helped establish the first Anglo settlement on the Llano Estacado in 1881, in Crosby County . . . Read more
Crosby County Estates with Unclaimed Money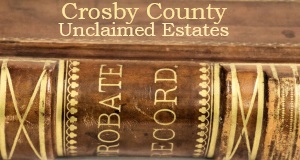 These Deceased Residents of Crosby County left a total $6,521 in Unclaimed Money for their heirs. Please share this with your family and friends from Ralls, Crosbyton and Lorenzo Texas to let them know how to claim their inheritance from the Texas Comptroller's Office . . . See the full list


Nearby Counties
Books About Floyd County People and Places



What's your Favorite Book about a Texas County, Town, Person or Place? Here's our best reads list County by County






Crosby County People
Crosby County Appraisal District
Crosby County News
Crosby County Land Auctions
Crosby County TX Experts
Crosby County Products
Crosby County Unclaimed Estates
Books about Crosby County People and Places