News for Public Officials
Books and Articles About Ector County Texas
Favorite Books, Authors and Articles about Ector County People, Places and Events. Here's our list of books and articles about people and places in Odessa, No Trees, Goldsmith, Gardendale and West Odessa.
Check Our List of Books About People and Places from Other Texas Counties Here
This site contains affiliate links to products. We may receive a commission for purchases made through these links. As an Amazon Associate we earn from qualifying purchases.
The Secret of Mojo: The Story of the Odessa, Texas, Permian High School Football Team
An insightful documentary of how the Permian High School team of Odessa developed into perennial state champions in the super-competitive state of Texas.
"The Secret of Mojo" lays bare Permian's secrets in becoming the winningest 5A-football program in the Modern Era of Texas High School Football, garnering national recognition in the process . . . Read more
Murder In Odessa
In the oil town of Odessa, Texas, Calhoun T. Banks just wants to mind his own business and drill for black gold. But after a night out at Mickey's bar, he discovers a dead body in the bed of his pickup truck. . . and himself being framed for murder! On the run with the entire police force of Odessa and Midland searching for him . . . Read more
Washed in the Blood
Washed in the Blood is a page-turning read about the time--early 1960s--and place--Odessa, Texas--during its rowdy oil boom days when violence often rode the range.  It is at once an examination of local mores and foibles, piety and hypocrisy and an inside-look at the famed 'Kiss and Kill' murder of a 17-year old would-be actress, Betty Jean Williams, whose ghost is said to haunt the Odessa High School campus to this very day.  And it is a courtroom saga starring the late trial super-lawyer, Warren Burnett . . . Read more Look inside
Oil Field Child
"The boomtown lifestyle of which Mrs. Stowe tells is long gone. She realized by the late 1930s, when she was a young woman living and working in Odessa, that this unique experience had already passed into history. for the most part it is unlamented, for it was undeniably hard. But it had compensations which shine forth in this book, chief of them a strong sense of fellowship and generosity among those people who endured it together . . ." Look inside
The True Story of the Sharpest Ever-: Michael Eugene Sharp
The true story of the investigation and capture of a serial killer in a small West Texas town, including details of the killer's arrest and execution. "Mike Evans becomes burned out with law enforcement in the big city. He transfers to a small oil dependent community, where law-abiding citizens dominate the town. The biggest crimes in No Trees range from an occasional DWI to shoplifting" . . . Look inside
Odessa - A Pictorial History [Odessa, Texas]
"A Pictorial History – Odessa" is divided into three sections: Around the Town, Friends & Family, and Schools & Sports. The photographs in each section are displayed in chronological order so that the progression of this Texas city and its people can be felt as the images from the past are viewed . . .
The Great Plains during World War II
Emphasizing the region's social and economic history, The Great Plains during World War II is the first book to examine the effects of the war on the region and the responses of its residents.
"As early as May 1940 law enforcement near Odessa, Texas, had to rescue more thqan fifty members of the Jehovah's witnesses from a ranch house where they they had fled from an angry mob because they " . . . Read more Look inside
Texas Cemeteries:
The Resting Places of Famous, Infamous, and Just Plain Interesting Texans
Winner, Journalistic Achievement Award, Texas Historical Foundation, 2004
" Alfred M. Wilson was a 1967 graduate of Odessa High School in Odessa and entered the military service in Abilene, Texas Private First Class Wilson was assigned to the Ninth Marines, Third Marine Division, in Quang TriProvince, Vietnam, on March 3, 1969 . . ." Read more Look inside
Take Two Aspirins, But Don't Call Me in the Morning
In response to the stifling socialism of the Canadian health care system and the intolerably long Canadian winters, Dr. Mel Genraich made a life-altering decision: leave Toronto for good, and seek his fortune in Texas. "I've been fortunate (and conniving) enough to have lived in some great homes in such great cities as Toronto, Houston, Lubbock, Oklahoma City, Odessa, Monahans, Levelland, and now back in Lubbock TX. In Amarillo, Texas, I lived in an exclusive country club community right up to and after, my second divorce . . . Read more, Look inside
Spirits of the Border V: The History and Mystery of the Lone Star State
HAUNTED PLACES IN ODESSA TEXAS
According to this book of haunted places in Texas, Odessa is home to 3 mysterious and haunted places . . . Check it out
Spirits of the Border: School Spirits
In this newest installment of this award winning series, the authors look at what they like to call School Spirits! Find Haunted Texas schools in Alpine. . . Levelland, Lindale, Littlefield, Lubbock, Luther, Mcallen, Mesquite, Mission, Monahans, Moody, Nacogdoches, Odessa, Pasadena, Pearsall, Plainview, Rio Hondo, San Angelo, San Antonio, San Benito, San Juan, San Marcos, Santa Ana, Sealy, Seguin, Shafter, Sweetwater, Tyler, Uvalde, Waco, Weslaco, White Oak, and Zapata, Texas . . . Read more
Tejano West Texas
Featuring a side of Tejano history too often neglected, author Arnoldo De León shows that people of Spanish-Mexican descent were not passive players in or, worse, absent from West Texas history but instead were active agents at the center of it . . . Read more Look inside
Valentine: A Novel
"It's February 1976, and Odessa, Texas, stands on the cusp of the next great oil boom. While the town's men embrace the coming prosperity, its women intimately know and fear the violence that always seems to follow. In the early hours of the morning after Valentine's Day, fourteen-year-old Gloria Ramírez appears on the front porch of Mary Rose Whitehead's ranch house, broken and barely alive. The teenager had been viciously attacked in a nearby oil field—an act of brutality that is tried in the churches and barrooms of Odessa before it can reach a court of law . . . Read more Look inside
Odessa: An Illustrated History
Odessa Yearbooks
Ector County Estates with Unclaimed Money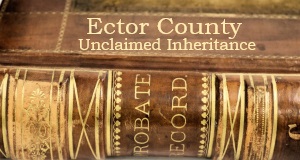 These Deceased Residents of Ector County Left a total $409,493 in Unclaimed Money for their heirs. Please share this with your family and friends from Odessa, Gardendale and Goldsmith to let them know how to claim their inheritance from the Texas Comptroller's Office. . . see the list




Featured Ector County Item

Rare Artifacts, Memorabilia, Ancestry and History Records from Odessa, Goldsmith, Gardendale and West Odessa

Important: Tap or click the title (not the photo) for details on the items listed below.
What's your Favorite Book about a Texas County, Town, Person or Place? Here's our best reads list County by County






Ector County People
Ector County Appraisal District
Ector County News
Ector County Land Auctions
Ector County TX Experts
Ector County Products
Ector County Unclaimed Estates
Books about Ector County