Davick Services on Facebook
True Stories of Amazing People and Places in Texas
Books and Articles About Ector County Texas
Favorite Books, Authors and Articles about Ector County People, Places and Events. Here's our list of books and articles about people and places in Odessa, No Trees, Goldsmith, Gardendale and West Odessa.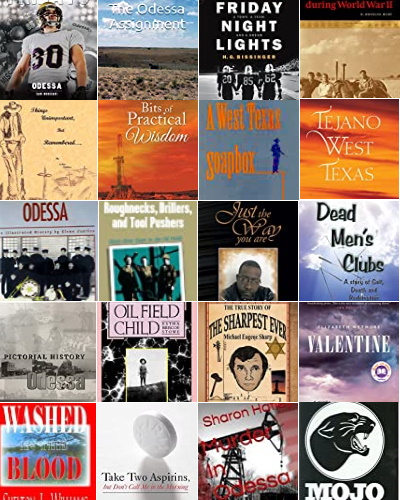 This site contains affiliate links to products. We may receive a commission for purchases made through these links. As an Amazon Associate we earn from qualifying purchases.
Things Unimportant, but remembered
"She and my stepson, Alex were visiting with her son there in Cuidad Acuna, Mexico where he has a small jewelry store. Me not speaking Spanish was standing out front of the place of business. the place of business. I noticed a clean cut young Mexican fellow walk by and he stopped a few store fronts up turned and came back and extended his hand and said, "I am George Garza from Odessa, Texas." I told him that was a coincident for I was raised in Odessa. He told me he graduated from Odessa High School. I told him that was another coincident for I had graduated " . . . Read more
Friday Night Lights, 25th Anniversary Edition: A Town, a Team, and a Dream
Return once again to the timeless account of the Permian Panthers of Odessa -- the winningest high-school football team in Texas history. Socially and racially divided, Odessa isn't known to be a place big on dreams, but every Friday night from September to December, when the Panthers play football, dreams can come true. With frankness and compassion, Pulitzer Prize winner H. G. Bissinger unforgettably captures a season in the life of Odessa and shows . . . Read more Look inside
Murder In Odessa
In the oil town of Odessa, Texas, Calhoun T. Banks just wants to mind his own business and drill for black gold. But after a night out at Mickey's bar, he discovers a dead body in the bed of his pickup truck. . . and himself being framed for murder! On the run with the entire police force of Odessa and Midland searching for him . . . Read more
Washed in the Blood
Washed in the Blood is a page-turning read about the time--early 1960s--and place--Odessa, Texas--during its rowdy oil boom days when violence often rode the range.  It is at once an examination of local mores and foibles, piety and hypocrisy and an inside-look at the famed 'Kiss and Kill' murder of a 17-year old would-be actress, Betty Jean Williams, whose ghost is said to haunt the Odessa High School campus to this very day.  And it is a courtroom saga starring the late trial super-lawyer, Warren Burnett . . . Read more Look inside
Oil Field Child
"The boomtown lifestyle of which Mrs. Stowe tells is long gone. She realized by the late 1930s, when she was a young woman living and working in Odessa, that this unique experience had already passed into history. for the most part it is unlamented, for it was undeniably hard. But it had compensations which shine forth in this book, chief of them a strong sense of fellowship and generosity among those people who endured it together . . ." Look inside
Roughnecks, Drillers, and Tool Pushers: Thirty-three Years in the Oil Fields
Oil, the black gold of Texas, has given rise to many a myth. Oil could turn a man overnight into a millionaire—and did, for some.
"Our rig moved into the Andector field just northeast of Goldsmith, Texas, on a Phillips Petroleum Company location. It was only 25 miles from Odessa, and the road was paved, a real luxury ride after Big Lake's dusty dirt roads. I got some good . . . " Read more Look inside
The True Story of the Sharpest Ever-: Michael Eugene Sharp
The true story of the investigation and capture of a serial killer in a small West Texas town, including details of the killer's arrest and execution. "Mike Evans becomes burned out with law enforcement in the big city. He transfers to a small oil dependent community, where law-abiding citizens dominate the town. The biggest crimes in No Trees range from an occasional DWI to shoplifting" . . . Look inside
Blood and Money: The Classic True Story of Murder, Passion, and Power
New York Times Bestseller: The "gripping" true story of a beautiful Texas socialite, her ambitious husband, and a string of mysterious deaths.
Found Inside: "For a time Marcia worked the "spots" in West Texas, staying a day or so in San Angelo, moving on to Lubbock or Odessa. Then she telephoned home and her mother had disturbing news. The Texas Ranger had come looking for her, and the Houston homicide detectives had called to warn that Marcia was in danger of being killed by "characters" unless she contacted them ... " Read more Look inside
The Secret of Mojo: The Story of the Odessa, Texas, Permian High School Football Team
An insightful documentary of how the Permian High School team of Odessa developed into perennial state champions in the super-competitive state of Texas.
"The Secret of Mojo" lays bare Permian's secrets in becoming the winningest 5A-football program in the Modern Era of Texas High School Football, garnering national recognition in the process . . . Read more
The Last of The Old-Time Cowboys
Within the pages of this book these genuine legends who rode through a golden moment in American history live on. Found inside: "Interviewed 13 August 1990 in Ector County: Born August 14,1909 in Winters. Brice lived in Houston during World War One and later in Winters and Littlefield. He worked in the oil fields near the tent city of Crane in the mid-1920s and took up cowboying on the . . . Read more
Voices from the Heartland: Volume II
Found inside: I had left my most recent abusive relationship a year before, one that broke me mentally and physically. After staying nine months with my mother and her third husband, I found a job and moved us out on our own. my son and I lived in the projects in Odessa, Texas, because that's all I could afford on my minimum-wage part-time job. . . .Read more Look inside
The Odessa Assignment
Welcome back to the continuing adventures of OSI agent Jerry Doty. In this adventure he investigates the Texas Mafia and drug Cartel in his Uncle's hometown of Odessa Texas. Who can he trust this time? He has lost his long trusted partner in his last assignment. Now with a new young partner will she have his back or get him or both of them killed. Which of the locals can he trust? . . . Read more Look inside
A West Texas Soapbox
by Jim Sanderson
Whether sprawled on barstools or preaching from pulpits, people need to make sense of their world, and in Jim Sanderson's world of West Texas, pulpits and barstools are where many of them do so. Sanderson himself stood for many years at a podium, teaching at a community college in Odessa, Texas. There, tired of academic papers and sometimes losing the distinction between fiction and nonfiction, he turned to the world around him to figure out the meaning . . . Read more Look inside
Bits of Practical Wisdom
My dad and mom moved from a Hockley County, Texas farm to Odessa, Texas and we set up central station for alarms in their home on North Muskingum Street there. We arranged with telephone answering services to monitor some system . . . Read more Look inside
Just the Way You Are
by Trent Jones
"How could I not want to love a woman who looked like, and acted like, played like, and had the same attitude like me, was just as sensitive and loved hard, just like all the women who raised me? Doris Faye, Linda Gail, Lulu, Jackie Von and Charlotte are my aunts from Odessa, Texas. Mama Rebecca my great Grandmother, Myrtle Jones my Grandmother, and Carolyn my Mother, were the first Women to nurture me, scold . . . " Read more Look inside
Odessa (Texas Fridays)
"High school football and mystery overlap as private detective Pete Hamilton is called upon to investigate the disappearance of a student at Permian High School. As Pete digs into the case, he delves deeper into Odessa's underbelly, eventually unearthing connections to the highest levels of Odessa's establishment--both in and out of football. . . . Read more Look inside
The Great Plains during World War II
Emphasizing the region's social and economic history, The Great Plains during World War II is the first book to examine the effects of the war on the region and the responses of its residents.
"As early as May 1940 law enforcement near Odessa, Texas, had to rescue more than fifty members of the Jehovah's witnesses from a ranch house where they they had fled from an angry mob because they " . . . Read more Look inside
Texas Cemeteries:
The Resting Places of Famous, Infamous, and Just Plain Interesting Texans
Winner, Journalistic Achievement Award, Texas Historical Foundation, 2004
" Alfred M. Wilson was a 1967 graduate of Odessa High School in Odessa and entered the military service in Abilene, Texas Private First Class Wilson was assigned to the Ninth Marines, Third Marine Division, in Quang TriProvince, Vietnam, on March 3, 1969 . . ." Read more Look inside
Take Two Aspirins, But Don't Call Me in the Morning
In response to the stifling socialism of the Canadian health care system and the intolerably long Canadian winters, Dr. Mel Genraich made a life-altering decision: leave Toronto for good, and seek his fortune in Texas. "I've been fortunate (and conniving) enough to have lived in some great homes in such great cities as Toronto, Houston, Lubbock, Oklahoma City, Odessa, Monahans, Levelland, and now back in Lubbock TX. In Amarillo, Texas, I lived in an exclusive country club community right up to and after, my second divorce . . . Read more, Look inside
Spirits of the Border V: The History and Mystery of the Lone Star State
HAUNTED PLACES IN ODESSA TEXAS
According to this book of haunted places in Texas, Odessa is home to 3 mysterious and haunted places . . . Check it out
Spirits of the Border: School Spirits
In this newest installment of this award winning series, the authors look at what they like to call School Spirits! Find Haunted Texas schools in Alpine. . . Levelland, Lindale, Littlefield, Lubbock, Luther, Mcallen, Mesquite, Mission, Monahans, Moody, Nacogdoches, Odessa, Pasadena, Pearsall, Plainview, Rio Hondo, San Angelo, San Antonio, San Benito, San Juan, San Marcos, Santa Ana, Sealy, Seguin, Shafter, Sweetwater, Tyler, Uvalde, Waco, Weslaco, White Oak, and Zapata, Texas . . . Read more
Folklore in Motion: Texas Travel Lore
The adventurous spirit of Texans has led to much travel lore, from stories of how ancestors first came to the state to reflections of how technology has affected the customs, language, and stories of life on the go. "Our confirmation, postmarked "No Trees, Texas," came about ten days later, saying that we could meet them in Tahoka. Upon arriving, we quickly found there were basic rules for all participants, including taking care of the campsites, and . . . " Read more Look inside
Dead Men's Clubs: A Story of Golf, Death, and Redemption
"Well, I guess any guy who's been to No Trees, Texas can't be all that bad," she teased. "Great! Are you home tomorrow, or working?" "I have three days before I fly again," she said, writing her telephone number on Munch's card and handing it ... Read more Look inside
Tejano West Texas
Featuring a side of Tejano history too often neglected, author Arnoldo De León shows that people of Spanish-Mexican descent were not passive players in or, worse, absent from West Texas history but instead were active agents at the center of it . . . Read more Look inside
Valentine: A Novel
"It's February 1976, and Odessa, Texas, stands on the cusp of the next great oil boom. While the town's men embrace the coming prosperity, its women intimately know and fear the violence that always seems to follow. In the early hours of the morning after Valentine's Day, fourteen-year-old Gloria Ramírez appears on the front porch of Mary Rose Whitehead's ranch house, broken and barely alive. The teenager had been viciously attacked in a nearby oil field—an act of brutality that is tried in the churches and barrooms of Odessa before it can reach a court of law . . . Read more Look inside
Odessa: An Illustrated History
Odessa - A Pictorial History [Odessa, Texas]
"A Pictorial History – Odessa" is divided into three sections: Around the Town, Friends & Family, and Schools & Sports. The photographs in each section are displayed in chronological order so that the progression of this Texas city and its people can be felt as the images from the past are viewed . . .
Odessa Yearbooks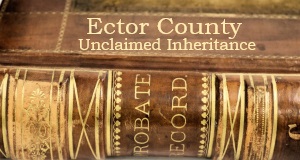 Ector County Estates with Unclaimed Money
These Deceased Residents of Ector County Left a total $409,493 in Unclaimed Money for their heirs. Please share this with your family and friends from Odessa, Gardendale and Goldsmith to let them know how to claim their inheritance from the Texas Comptroller's Office. . . see the list




Ector County Treasures on eBay

Rare Artifacts, Memorabilia, Ancestry and History Records from Odessa, Goldsmith, Gardendale and West Odessa
What's your Favorite Book about a Texas County, Town, Person or Place? Here's our best reads list County by County






Ector County People
Ector County Appraisal District
Ector County News
Ector County Land Auctions
Ector County TX Experts
Ector County Products
Ector County Unclaimed Estates
Books about Ector County