News for Public Officials
Books and Articles about Erath County Texas People and Places
Favorite Books, Authors and Articles about Erath County People, Places and Events. What's your Favorite? Here's our list of books and articles about people and places in Stephenville, Thurber, Dublin, Alexander, Selden, Bluff Dale, Clairette and Morgan Mill Texas.
Check Our List of Books About People and Places from Other Texas Counties Here
This site contains affiliate links to products. We may receive a commission for purchases made through these links. As an Amazon Associate we earn from qualifying purchases.
Erath County
My Corner of the Great Depression
Mary Joe Fitzgerald Clendenin grew up in rural Erath County, Texas, before electricity and indoor plumbing was available to country folk. My Corner of the Great Depression tells about life in rural Texas during the years from the fall of the stock market until the beginning of World War II. Country life in those times meant canning, hog-killing, milking the family cow, working in the field, saving pennies to go the movies, playing all the school games . . .Read more Look inside
History of Erath County:
A Pictorial, Limited Edition, Family History of the People or Erath County, Texas: 1878-1980
History of Erath County Texas 1878-1980, including genealogical information, photos, family surname history, settlers, pioneers, builders, trades, buildings, schools and churches of the era.
Images of Erath County: The Early Years
An incredible pictorial of the early history of Erath county Texas. This book covers the first half of the 1900s, from the turn of the century to around 1950.
Footprints
A free verse description of life as it was in a farm family in Erath County, Texas, in the 1920s and 1930s, the way of life of devout Christians of the Church of Christ.
Deadly Dozen: Forgotten Gunfighters of the Old West, Vol. 2
Think gunfighter, and Wyatt Earp or Billy the Kid may come to mind, but what of Jim Moon? Joel Fowler? Zack Light? A host of other figures helped forge the gunfighter persona, but their stories have been lost to time. "The first, Company A, with Captain John R. Waller commanding, began recruitment in May, One of the first to join Waller's company was John A. Watson, who on May 25 enlisted at Stephenville, Erath County . . . " Read more Look inside
Fragments of History: Erath County, Philosophical Essays, Cities of the Immortal Dead
GRAND OL' ERATH. The Saga of a Texas West Cross Timbers County
Stephenville, Texas
Sins of the Pioneers: Crimes & Scandals in a Small Texas Town
When the Civil War ended, many disenchanted Southerners poured into Central Texas, toting guns and grudges. Shots of whiskey loosened tempers and soon bullets were flying. Within a few years, the Lone Star State had become the nation's murder capital. The small town of Stephenville, where 139 people were hauled to prison between crimes 1864 to 1891, dealt with Comanche warriors, restless outlaws, crime rings, and the ruthless vigilante group known as The Mob . . . Read more
Stephenville
On July 4, 1855, on the fringe of the Texas Cross Timbers frontier, John M. Stephen and George B. Erath completed the survey of the Stephenville city square. Stephenville quickly became a prosperous settlement and a center for cattle raising, cotton production, and most recently dairy production. Styled today as . . . Read more Look inside
Death List, Trail of Terror
Three desperate convicts under the cover of darkness slipped out of the confines of the Colorado State Penitentiary in Cañon City, Thursday night, August 22, 1974. Dalton Williams, Jerry Ben Ulmer, and Richard Mangum headed south, stealing and abandoning automobiles along the way. Two pretty petite social workers—Janice Lefever and Betty Jane Tucker— made a fateful stop along a New Mexico highway . . . Read more Look inside
Stephenville Yellow Jacket Football
In Texas, high school football is king. If pigskin passion is no less intense among college and professional fans, enthusiasm for the schoolboy sport is more democratically spread throughout towns and communities, small and large. Almost any young man can play if he's willing to pay the price, work hard, and bring a bit of local, regional, or statewide glory to his hometown. Stephenville High School is one among an elite group of Texas football schools that has achieved at the highest level. The traditional rivalry games against Dublin . . . Read more Look inside
Texas UFO Tales: From Denison 1878 to Stephenville 2008
Since the late 1870's Texans have been reporting UFO sightings in the sky...and as recently as 2008, a wave of UFO reports around Stephenville stirred up international attention in the Lone Star State. In Texas UFO Tales, noted Texas writer-historian Mike Cox and journalist Renee Roderick have selected seventeen stories from among the many hundreds of reports. Ranging from the mysterious to the mirthful, they make these stories come alive . . . Read more
Thurber, Texas
The Birth of a Texas Ghost Town: Thurber, 1886–1933
In its heyday, Thurber was home to coal miners and brick plant workers from Italy, Poland, and as many as fourteen other European nations, not to mention the many Mexican immigrants who came to the area. In this, her master's thesis, Mary Jane Gentry, who started the first grade in Thurber and graduated as valedictorian of its high school in 1930, records first-hand memories of the town's vibrant charm. . . . Read more
The Back Road to Thurber
In The Back Road To Thurber, Leo Bielinski looks through the eyes of ethnic immigrants to tell the story of life in a Texas coal mining town. The story is based in part on actual events, and those who know Thurber, Texas, will recognize it immediately as the setting. In Bielinski's novel, Thurber becomes the stage upon which Italian, Polish, and other immigrants come face to face with the realities of life in America. Through flashbacks, The Back Road To Thurber covers the period from the late 19th to late 20th century - a tumultuous era of boom and bust for many towns like Thurber . . . Read more Look inside
Oysters, Macaroni, and Beer: Thurber, Texas, and the Company Store
From 1894 to 1934, a span of forty years that saw its parent company go from coal mining to oil drilling, the Texas Pacific Mercantile and Manufacturing Company operated and managed the various commercial and service enterprises essential to the life and history of Thurber, Texas. Thurber was a company town, wholly owned by the Texas and Pacific Coal Company, and the inhabitants viewed the "company store" with suspicion before . . . Read more
A Way of Work and a Way of Life:
Coal Mining in Thurber, Texas, 1888-1926
The coal mine represented much more than a way of making a living to the miners of Thurber, Texas, in the late nineteenth and early twentieth centuries--it represented a way of life. Coal mining dominated Thurber's work life, and miners dominated its social life. The large immigrant population that filled the mines in Thurber represented more than a dozen nations, which lent a certain uniqueness to this Texas town . . . Read more
Thurber Texas: The Life and Death of a Company Coal Town
The Thurber coal district sprang to life in the late 1880s in northern Erath County, Texas, some seventy miles west of Fort Worth. The mines were opened by the Texas & Pacific Coal Company to fuel the locomotives of its railway, whose tracks crossed the state from Marshall to El Paso. The company also built the town of Thurber to service the mines. It then imported workers from distant points, eventually including some twenty nationalities, whose old country ways contrasted sharply with . . . Read more
Dublin Texas
The Road to Dr Pepper, Texas: The Story of Dublin Dr Pepper
The Road to Dr Pepper, Texas is the story of Dublin Dr Pepper Bottling Co., a David-Goliath case study of the world's first Dr Pepper bottling plant and the only one that has always used pure cane sugar in spite of compelling reasons to switch sweeteners. The book traces the story from the founder's birth through the contemporary struggles of a tiny independent, family-owned franchise against industry giants. Owners of the plant have been touched by every major social, economic, and political issue of the past 114 years, and many of those forces threatened the survival of the plant . . . Read more
Covered Wagons Keep On Rollin' - The History of Dublin, Texas
Public Cowboy No. 1: The Life and Times of Gene Autry
The only performer to earn 5 stars on the Hollywood Walk of Fame--for film, recordings, TV, radio, and live performance--Gene Autry was the singing cowboy king of American entertainment.
" In addition to headlining 1940's Madison Square Garden and Boston Garden rodeos, both produced by Dublin, Texas-based Everett Colborn, Gene also had played sold-out shows at rodeos in Pittsburgh, Washington, DC, and other cities . . . " Read more Look inside
Pioneer sketches, Nebraska and Texas
EARLY SCHOOLS OF DUBLIN, TEXAS
"Very soon in its life as a community the little settlement of "doubling" began to pay attention to educational matters. In 1859 the tiny collection of pioneers augmented by the removal from Cow creek of the families of Wm. (Big Bill) Keith, and G. W. O'Neal about twenty in number, had its very first school under the management of Mrs. Sarah Keith O'Neal" . . . Read more Look inside
Alexander, Texas
The Family Saga: A Collection of Texas Family Legends
"Grace Myrtle Oldham was born on April 5, 1886. According to her stories she moved with her family to Alexander, Texas, Erath Co., before she was one year old. Later the family settled on a farm on Alarm Creek a few miles north of Alexander. Myrtle told many stories about Indians, and panthers, and rattlesnakes . . . " Read more Look inside
The ghost of the McDow Hole
by Mary Joe Clendenin
Selden Texas
Based on actual events, the discovery of a decapitated human head in an old storm cellar leads to the unimaginable in a rural Texas community in 1925. Teenagers, Elvis Rivers and Aaron Martin, plunge into a night of terror when Elvis's trusty dog, Hootus, alerts on an old abandoned, partially caved-in cellar. Something is terribly wrong. After discovering and retrieving a bloody tow-sack from inside the cellar, Elvis quickly drops it when he sees inside – the decapitated head of a teenage boy . . . Read more Look inside
Bluff Dale, Texas
Corners of Texas (Publications of the Texas Folklore Society)
This is the best of the Society's papers over the past three years—from lynchings to el pato boat building; from sunbonnets to hammered dulcimers; from jokes about droughts and lawyers to tales of folk, gospel and blues music; from grave markers to bottle trees, and more.
"Opal Harris Pittman of Bluff Dale, Texas, remembers a funeral the Harris family with its five girls attended in the early part of this century: "Mama took every one of our bonnets, and washed and ironed them so we'd be dressed for the funeral . . . " Read more Look inside
Clairette Texas
Centennial Clairette 1880-1980
Morgan Mill, Texas
The Ridge Report: A Journaled Year of My Life at the Star Mar Ranch, Morgan Mill, Texas
by Marla Bush
Honky Tonk Texas Cowboys - 3 Book Boxed Set
This sexy contemporary cowboy romance trilogy from bestselling author Carolyn Brown features the Honky Tonk beer joint and its succession of lovelorn owners.
FOUND INSIDE: "There really is a Morgan Mill, Texas, with a combination feed store, café, and gathering place for the locals to drink coffee. If you're ever in that area visit both of them. You'll find good food, smiles, and lots of friendly downhome folks. To every . . ." Read more Look inside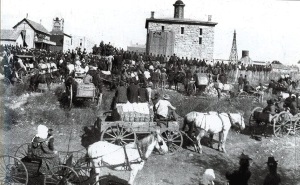 Public Hanging of Tom Wright 1899
On November 10, 1899 a crowd of 4,000 gathered in Stephenville, Texas for the last public execution in Erath County. What led to the hanging of Tom Wright who had been convicted of shooting and killing Constable John Adams in nearby Dublin and Wright's final testimony is included in this article.
What's your Favorite Book about a Texas County, Town, Person or Place? Here's our best reads list County by County






Erath County Appraisal District
Erath County News
Erath County Land Auctions
Erath County TX Experts
Erath County Products
Books about Erath County People & Places
Famous People from Erath County
Erath County Unclaimed Estates