Davick Services on Facebook
True Stories of Amazing People and Places in Texas
Books and Articles About Hale County Texas People and Places

Favorite Books, Authors and Articles about Hale County People, Places and Events. What's your Favorite? Here's our list of favorite books about people and places in Plainview, Hale Center, Petersburg and Abernathy.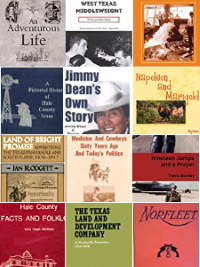 This site contains affiliate links to products. We may receive a commission for purchases made through these links. For Example: As an Amazon Associate we earn from qualifying purchases.
Norfleet: The Manhunter's Own True Story- The Amazing Experiences of an Intrepid Texas Rancher with An International Swindling Ring
The true story of a Hale County Rancher and Farmer who at age 55 became a famous manhunter and captured a gang of conmen who had swindled him out of $45,000 in 1919 . .
The Texas Land and Development Company: A Panhandle Promotion, 1912-1956
Agricultural and urban development came late to the Texas South Plains, and frontier life lingered well into the twentieth century. In the decade preceding World War I numerous land companies flourished in the area and acted as catalysts for settlement and economic expansion. Prominent among these companies was the Plainview-based Texas Land and Development Company, founded in 1912 . . . Read more Look inside
Dynasty on the Texas Plains:
Short Stories of Life and Customs on the Plains of Texas
by Bonnie Faye James Gaston
Bonnie Gaston grew up during the Depression six miles south of Littlefield Texas. As an adult she was an award-winning elementary school in Plainview. This is her joyful story of growing up on the Texas Plains . . . Read more
Hale County Facts and Folklore - Volume II
Historical and genealogical information on Hale County, Texas, including photos of people, buildings and biographical info of the original settlers in this area . . . Read more
Nineteen Jumps and a Prayer
In the summer of 1970, 18-year-old Travis Monday joined the U.S. Army and volunteered for Airborne School and for Vietnam. Thirty-five years later he wrote his own story -- Nineteen Jumps and a Prayer. His adventures as an Army paratrooper and as a Vietnam veteran also serve as a platform for telling the stories of others . . . Read more
Medicine and Cowboys Sixty Years Ago and Today's Politics
These disconnected notes were written after office hours, about cowboys, and medical practice sixty years ago, for the amusement of some of my older patients, who lived during that period here in West Texas area. Most of the old-timers are riding herd (now up in the sky). At a recent reunion that is held cacti summer, Colonel Goodnight suggested that a petition be presented to St. Peter requesting him to designate the sky over the West Texas Panhandle as the permanent home of the cowboys. It was pointed out that bow-legged cowboys . . . Read more
Land of Bright Promise: Advertising the Texas Panhandle and South Plains, 1870-1917
Land of Bright Promise is a fascinating exploration of the multitude of land promotions and types of advertising that attracted more than 175,000 settlers to the Panhandle–South Plains area of Texas from the late years of the nineteenth century to the early years of the twentieth. Shunned by settlers for decades because of its popular but forbidding image as a desert filled with desperados, savage Indians, and solitary ranchers, the region was seen as an agricultural and cultural wasteland. The territory, consequently, was among the last to be settled in the . . . Read more
Land of the Underground Rain: Irrigation on the Texas High Plains, 1910-1970
by Donald E Green
The scarcity of surface water which has so marked the Great Plains is even more characteristic of its subdivision, the Texas High Plains. Settlers on the plateau were forced to use pump technology to tap the vast ground water resources—the underground rain—beneath its flat surface . . . Read more
West Texas Middleweight: The Story of LaVern Roach
LaVern Roach, a skinny kid from the small town of Plainview, Texas, rose from obscurity to become one of boxing's most popular figures during the 1940s. Roach's rise to prominence occurred during an era when boxing shared the spotlight with baseball as the nation's top two professional sports. As a result of Roach's death--which marked the first nationally televised fight during which a boxer died . . . Read more
An Adventurous Life
Life is never easy but specially so when your born in a boxcar in the center of a railroad siding in the Great Depression.
"I went to Plainview, Texas because it was not far from Amarillo and Wichita Falls, Pampa, Borger, Memphis, Quanah, Shamrock, Wellington and Paducah teams that had been on our schedule for all four years of high school. I met a girl from Petersburg, Texas, and started dating her. During the second semester, we decided to get married and continue college.A guy I'd been in . . . Read more Look inside (page 86)
Thirty Years of Sausage...Fifty Years of Ham
A memoir from the country singer and entrepreneur Jimmy Dean covers his life from his childhood in West Texas through success as a country and western entertainer to fulfillment as a sausage superstar . . . Read more
The Queens Fly High
by Harley J. Redin, Wayland College Plainview, Texas
The coach of the Wayland Flying Queens, winner of five National Basketball Championships wrote The Queens Fly High in 1958 for coaches, players, and spectators interested in women's' basketball . . .

Victim of Circumstances
by Dee C. Dodson
Dee- Tales of the Past
Memoirs of Dee C. Dodson from settling of the Texas Panhandle through World War II
To the Ends of the Earth: High Plains to Patagonia
On the road to seek work in the cotton fields of Texas, an old Ford Model T truck breaks down and forces a change of destination that ultimately leads the protagonists to the Argentine Patagonia. Follow the anecdote-driven story of a devoted couple who spent their childhood in the U.S. Southwest during the Great Depression.
"It was only seventy-five miles to Plainview, and a quick calculation told him that they should arrive in time for an early lunch . . . Read more Look inside
History of Hale County Texas
by Mary L. Cox
A Pictorial History of Hale County Texas
Napoleon and Marigold
by Peg Davis
Come to west Texas and meet Napoleon, a fine handsome rooster and Marigold, a pretty golden colored hen as they raise their family on a small farm near Abernathy, Texas. The interactions of the chicks, with different animals on the farm, are serious, sometimes comical and maybe even dangerous . . . Read more
Spirits of the Border V: The History and Mystery of the Lone Star State
According to this book of haunted places in Texas, Plainview is home to seven haunted places including the Old Hilton Hotel, Wayland Baptist University, Coronado Jr. High, Masso's Department Store, Plainview High School . . . Check it out
Spirits of the Border: School Spirits
In this newest installment of this award winning series, the authors look at what they like to call School Spirits! Find Haunted Texas schools in Alpine. . . Levelland, Lindale, Littlefield, Lubbock, Luther, Mcallen, Mesquite, Mission, Monahans, Moody, Nacogdoches, Odessa, Pasadena, Pearsall, Plainview, Rio Hondo, San Angelo, San Antonio, San Benito, San Juan, San Marcos, Santa Ana, Sealy, Seguin, Shafter, Sweetwater, Tyler, Uvalde, Waco, Weslaco, White Oak, and Zapata, Texas . . . Read more
Hale County Yearbooks
Related Articles