Davick Services on Facebook
True Stories of Amazing People and Places in Texas
Books About Kimble County Texas People and Places
What's Your Favorite Book about a Kimble County Texas Person, Place or Event? Here are some of our favorite books about Junction, London, Cleo, Noxville, Roosevelt, Telegraph and Segovia Texas.

This site contains affiliate links to products. We may receive a commission for purchases made through these links. For Example: As an Amazon Associate we earn from qualifying purchases.
The Reckoning: The Triumph of Order on the Texas Outlaw Frontier
Isolated by geology and passed over by development, the vast, waterless tablelands of the Edwards Plateau of Texas became the stage for one of the great nineteenth-century dramas of Western justice. In 1873, opportunistic Anglo-Celtic cattlemen and homesteaders, protected by little other than personal firearms and their own bravado, began settling the stream-laced rangelands east of the plateau. An insidious criminal element soon followed: a family-based tribal confederation of frontier outlaws took root in the canyonlands around the forks of the Llano River, in unorganized and lawless Kimble County . . . Read more
The 5 Wilson Brothers of Kimble County, Texas
A narrative history of 5 brothers born in Kimble County, Texas in the late 1800's in and around Junction, Texas. Details regarding family migrations from England (Wilson), Virginia (Woodward and Cox) and Missouri (Edmundson and Graham) to Texas . . . Look inside
A Day's Ride from Here Volume 2: Noxville, Texas
Join historian Cliff Caldwell for volume two of A Day's Ride from Here as he takes you through the hidden history of Texas Hill Country. Follow the San Saba trail the old Spanish route from San Antonio to Menard to the famous Pegleg Crossing, where Rangers brought down Dick Dublin in 1878. Visit frontier posts like Camp Verde and Camp Ives near Bandera Pass and see the sites of the earliest Texas Paleo-Indians along the Pecos River. Explore early pioneer settlements and once bustling towns . . . Read more
The Junction Boys:
How 10 Days in Hell with Bear Bryant Forged a Champion Team
The Junction Boys tells the story of Coach Paul "Bear" Bryant's legendary training camp in the small town of Junction, Texas. In a move that many consider the salvation of the Texas A&M football program, Coach Bryant put 115 players through the most grueling practices ever imagined. Only a handful of players survived the entire 10 days, but they braved the intense heat of the Texas sun and the burning passion of their coach, and turned a floundering team into one of the nation's best. The Junction Boys is more than just a story of tough practices without water breaks. An extraordinary fellowship was forged from the mind-numbing pain. The thirty-five survivors bonded together like no other team in America. They profited from the Junction experience; the knowledge they took back . . . Read more
Winship's Log
"I was trying to remember the other day exactly what my first memories are of Kimble County, of Junction, of Segovia, Texas. There is some spectacular stuff there, if I can bring it all to the surface—without making anything up. That's not real hard to do, but it takes time. You have to go slow."—Bob Winship
. . . Look Inside
The Land That Knows No Parting
The second in the series of "Little Town" essays by Rana K. Williamson, this collection of 26 hometown stories are of a more personal nature. They chronicle, in large part, the author's relationship with her late father, set against the backdrop of the small West Texas ranching community of Junction, Texas . . . Look Inside
Ella Elgar Bird Dumont: An Autobiography of a West Texas Pioneer

A crack shot, expert skinner and tanner, seamstress, sculptor, and later writer—a list that only hints at her intelligence and abilities—Ella Elgar Bird Dumont was one of those remarkable women who helped tame the Texas frontier. First married at sixteen to a Texas Ranger, she followed her husband . . "Gillett tells of scouting for Indians with Tom Bird in Kimble County when the men encountered a female black bear and two cubs. After killing the mother the Rangers tied up the fighting cubs and took them as pets. Gillett tells . . . . Read more Look inside
The Life and Times Of Toyah-Culture Folk
The Buckhollow Encampment Site, Kimble County, Texas
It Occurred in Kimble the Story of a Texas County
by O. C. Fisher
Recorded Landmarks of Kimble County Texas
NIce reference book with lots of old photos and information about Kimble County Texas
1982 Yearbook: Junction High School, Junction, Texas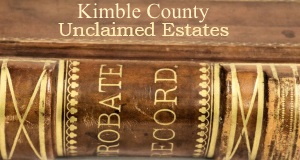 Kimble County Unclaimed Estates
These Deceased Residents of Kimble County Left a total $16,733 in Unclaimed Money for their heirs. Know the Heirs? Share this with your list of Family and Friends from Junction, Roosevelt and London Texas . . . see the list
Historical Treasures from Kimble County Texas

Find unique artifacts, memorabilia, historical and ancestry records in these treasures from Junction, London, Cleo, Noxville, Roosevelt and Segovia.
What's your Favorite Book about a Texas County, Town, Person or Place? Here's our best reads list County by County