Davick Services on Facebook
True Stories of Amazing People and Places in Texas
Books About Kimble County Texas People and Places
What's Your Favorite Book about a Kimble County Texas Person, Place or Event? Here are some of our favorite books about Junction, London, Cleo, Noxville, Roosevelt, Telegraph and Segovia Texas.

This site contains affiliate links to products. We may receive a commission for purchases made through these links. For Example: As an Amazon Associate we earn from qualifying purchases.
The Reckoning: The Triumph of Order on the Texas Outlaw Frontier
by Peter R. Rose
Isolated by geology and passed over by development, the vast, waterless tablelands of the Edwards Plateau of Texas became the stage for one of the great nineteenth-century dramas of Western justice. In 1873, opportunistic Anglo-Celtic cattlemen and homesteaders, protected by little other than personal firearms and their own bravado, began settling the stream-laced rangelands east of the plateau. An insidious criminal element soon followed: a family-based tribal confederation of frontier outlaws took root in the canyonlands around the forks of the Llano River, in unorganized and lawless Kimble County . . . Read more
The 5 Wilson Brothers of Kimble County, Texas
A narrative history of 5 brothers born in Kimble County, Texas in the late 1800's in and around Junction, Texas. Details regarding family migrations from England (Wilson), Virginia (Woodward and Cox) and Missouri (Edmundson and Graham) to Texas . . . Look inside
A Lone Star Cowboy: Being Fifty Years' Experience in the Saddle as Cowboy, Detective and New Mexico Ranger
"On reaching Kimble County we laid over in a new village called Junction City, now a prosperous seat of government of Kimble county, to load up our mess-wagon with grub. Further up the river we came to the end of our journey at the Joe, and Creed Taylor ranches . . . Read more Look inside
Ed Gooding: Soldier, Texas Ranger
Found Inside: " By 1926, the Mexican tick fever scare had passed and so had the need for many of the Livestock Commission officers, including Papa John. My parents and paternal grandparents had heard they could get rich quick in Kimble County in the pecan groves, so we moved to Junction, in Kimble County, to gather pecans. it didn't take long before the adults realized that they were not going to get rich quick or get rich quick picking pecans. Pap John had to quickly find a job just to feed his family. Luckily, Terry Jetton was looking for a cowboy to work on his ranch ...
The Goddess of War, A True Story of Passion, Betrayal and Murder in the Old West
John Wesley Hardin is the most famous gunfighter of the American Wild West. The subject of conversations from the Mexican border to the rowdy saloons of Kansas, he was the greatest celebrity of the age. He wrote an autobiography, but he only told what he wanted known, and few have researched beyond that. Today, Hardin is an enigma. Part of the mystery is his disastrous relationship with Helen Beulah Mrose, yet she has not been researched at all. Until now. The author lists Kimble County courthouse records as a primary source for this book . . . . . . Read more Look inside
The Best Cowboy Stories Ever Told
"On reaching Kimble County we laid over in a new village called Junction City, now the prosperous seat of government of Kimble County, to load up our mess-wagon with grub, etc. Farther up the river we came to the end of our journey, at the Joe, and Creed Taylor ranches . . . Read more Look inside
The Ranger Ideal Volume 2: Texas Rangers in the Hall of Fame, 1874-1930
"The four groups were then to rendezvous with the major and the main body on the nineteenth at Junction in Kimble County. Gillett accompanied one scout to Fort McKavett and arrest several hard cases there. His horse was injured and, once Coldwell's men rode north, Gillett was forced to remain . . . Read more Look inside
Law on the Last Frontier: Texas Ranger Author Hill
Found Inside: "Hill's first Ranger captain, Gully Cowsert, was a thrid-generation Ranger. He previously ranched in Kimble County and worked as an investigator for the Texas Sheep and Goat Raisers Association prior to entering the Ranger Service. Cowsert began his tenure as a Ranger captain in 1933 ... " Read more Look inside
The Trail Drivers of Texas: Interesting Sketches of Early Cowboys
These are the chronicles of the trail drivers of Texas those rugged men and, sometimes, women who drove cattle and horses up the trails from Texas to northern markets in the late 1800s.
"When we reached the Colorado river that stream was very low. Here I saw my first buffalo, but it was a tame animal and was branded a long S on each side. Ed Hagerman of Kimble County was ahead of us with a herd of the Half Circle L C cattle. After a great deal of hard luck and trouble we reached yellow Horse Draw about ten miles from Lubbock where we encountered a heavy hailstorm. We had lost a great many of our cattle on the trip, and the sudden change chilled a number of others to death as well as five horses." . . . Read more Look inside
A Day's Ride from Here Volume 2: Noxville, Texas
Join historian Cliff Caldwell for volume two of A Day's Ride from Here as he takes you through the hidden history of Texas Hill Country. Follow the San Saba trail the old Spanish route from San Antonio to Menard to the famous Pegleg Crossing, where Rangers brought down Dick Dublin in 1878. Visit frontier posts like Camp Verde and Camp Ives near Bandera Pass and see the sites of the earliest Texas Paleo-Indians along the Pecos River. Explore early pioneer settlements and once bustling towns . . . Read more
The Junction Boys:
How 10 Days in Hell with Bear Bryant Forged a Champion Team
The Junction Boys tells the story of Coach Paul "Bear" Bryant's legendary training camp in the small town of Junction, Texas. In a move that many consider the salvation of the Texas A&M football program, Coach Bryant put 115 players through the most grueling practices ever imagined. Only a handful of players survived the entire 10 days, but they braved the intense heat of the Texas sun and the burning passion of their coach, and turned a floundering team into one of the nation's best. The Junction Boys is more than just a story of tough practices without water breaks. An extraordinary fellowship was forged from the mind-numbing pain. The thirty-five survivors bonded together like no other team in America. They profited from the Junction experience; the knowledge they took back . . . Read more
Winship's Log
"I was trying to remember the other day exactly what my first memories are of Kimble County, of Junction, of Segovia, Texas. There is some spectacular stuff there, if I can bring it all to the surface—without making anything up. That's not real hard to do, but it takes time. You have to go slow."—Bob Winship
. . . Look Inside
Pistol Packin' Preachers: Circuit Riders of Texas
Circuit riders and other early preachers confronted dangerous outlaws, Indians, wild animals, and Texas' unpredictable weather. Found inside: "On this trip in March of 1878, the two men met at Center Point, traveled to Junction City in Kimble County and " ... Read more Look inside
Six Years With the Texas Rangers: 1875-1881
Found Inside: "To escape capture Dick and his companion fled west into Kimble County. While I was working as a cowboy with Joe Franks in the fall of 1873 I became acquainted with the two murderers, for they attached themselves to our outfit. They were always armed and constantly on the watchout for fear of arrest. Dublin was a large man, stout, dark complected, and looked more like the bully of a prize ring than the cowman he was. I often heard him say he would never surrender. While cow hunting with us he discovered that the naturally brushy and tangle county of Kimble would offer shelter for such as he, and persuaded his father to move out into that county . . . Read more Look inside
The Land That Knows No Parting
The second in the series of "Little Town" essays by Rana K. Williamson, this collection of 26 hometown stories are of a more personal nature. They chronicle, in large part, the author's relationship with her late father, set against the backdrop of the small West Texas ranching community of Junction, Texas . . . Look Inside
Last of the Old-Time Outlaws: The George West Musgrave Story
"Two years earlier, Jim, his brother Jourd, Jim Crane, and Jim Pettigrew had rustled cattle and horses from John Gardner and Peter Patterson of Kimble County, Texas. On February 6, 1897, Kimble County Sheriff John L. Jones and his deputies located the rustlers at Rust Ranch, twenty-one miles northwest of Junction City . . ." Read more Look inside
Ella Elgar Bird Dumont: An Autobiography of a West Texas Pioneer

A crack shot, expert skinner and tanner, seamstress, sculptor, and later writer—a list that only hints at her intelligence and abilities—Ella Elgar Bird Dumont was one of those remarkable women who helped tame the Texas frontier. First married at sixteen to a Texas Ranger, she followed her husband . . "Gillett tells of scouting for Indians with Tom Bird in Kimble County when the men encountered a female black bear and two cubs. After killing the mother the Rangers tied up the fighting cubs and took them as pets. Gillett tells . . . . Read more Look inside
Texas Ranger: The Epic Life of Frank Hamer, the Man Who Killed Bonnie and Clyde
Frank Hamer and Oscar Latta became close friends. Latta was a capable lawman and a dangerous man in a gunfight. In 1897, while a deputy sheriff in Kimble County, he and other officers engaged in a pitched gun battle with ban robbers, killing two of them. The next year he enlisted in the Rangers . . .Read more Look inside
Means of Ascent (The Years of Lyndon Johnson)
In Means of Ascent, Book Two of The Years of Lyndon Johnson, Robert A. Caro brings alive Lyndon Johnson in his wilderness years.
Found Inside: "By the time he was twelve, he was a cowhand on a ranch; at fourteen, while his father and mother homesteaded in Kimble County the slender, dark-hared, serious-faced boy was herding steers in the fierce winds that whipped across ... When Coke was sixteen, his father opened a small general store in Junction, a little town in Kimble County wedged between high, green hills on the banks of the Llano River ... Read more Look inside
More Ghost Towns of Texas
Found Inside: "Noxville is now a dispersed ranching community in eastern Kimble County, but in the late nine-tenth and early twentieth centuries it was a supply center that served the surrounding livestock raising area. By the 1860s the first white settlers had begun establishing ranches in what later became Kimble County. The best-known of these individuals was Creed Taylor, a veteran of the Texas Revolution and the Mexican War, who established a ranch headquarters on the James River in 1869. He and his family had recently been involved in the bloody Sutton-Taylor feud ... Read more Look inside
Texas Cemeteries:
The Resting Places of Famous, Infamous, and Just Plain Interesting Texans
Found Inside: "Meandering beneath high limestone bluffs, the clear water of the Little Devi's River served as a focal point for settlement in Kimble County in the early 1870s. Among those who farmed and prospered along the stream was Illinois native Noah Nox. Nox set up business along the banks of the river, and his store served as the first Noxviille post office. Nearby, townspeople quarried the local limestone, cut it into neat blocks and built the first rock schoolhouse in Kimble County ... " Read more Look inside
The Life and Times Of Toyah-Culture Folk
The Buckhollow Encampment Site, Kimble County, Texas
It Occurred in Kimble the Story of a Texas County
by O. C. Fisher
Recorded Landmarks of Kimble County Texas
NIce reference book with lots of old photos and information about Kimble County Texas
1982 Yearbook: Junction High School, Junction, Texas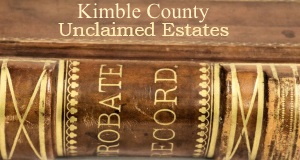 Kimble County Unclaimed Estates
These Deceased Residents of Kimble County Left a total $16,733 in Unclaimed Money for their heirs. Know the Heirs? Share this with your list of Family and Friends from Junction, Roosevelt and London Texas . . . see the list
What's your Favorite Book about a Texas County, Town, Person or Place? Here's our best reads list County by County