Davick Services on Facebook
True Stories of Amazing People and Places in Texas
Books About Potter County Texas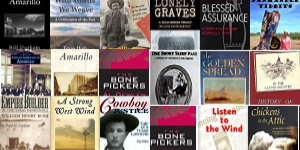 These hard to find books are perfect for anyone interested in the history, people and places of Potter County Texas.

This site contains affiliate links to products. We may receive a commission for purchases made through these links. As an Amazon Associate we earn from qualifying purchases.
Empire Builder in the Texas Panhandle: William Henry Bush
In 1881, a Chicago-based businessman secured interest in a sprawling ranch in the heart of Texas' great Panhandle. The celebrated Frying Pan Ranch spread across two counties and bordered what later became Amarillo, a raw frontier settlement. The land's unlikely new owner from the North, William Henry Bush - clothing wholesaler, real estate developer, philanthropist, and fledgling cattleman - represented a new figure at the beginning of the boom era in the . . . Read more
Strong West Wind: A Memoir
by Gail Caldwell from Amarillo
In this exquisitely rendered memoir set on the high plains of Texas, Pulitzer Prize winner Gail Caldwell transforms into art what it is like to come of age in a particular time and place. A Strong West Wind begins in the 1950s in the wilds of the Texas Panhandle–a place of both boredom and beauty, its flat horizons broken only by oil derricks, grain elevators, and church steeples. Its story belongs to a girl who grew up surrounded by dust storms and cattle ranches and summer lightning . . . Read more and Look Inside
Cowboy Justice: Tale of a Texas Lawman
Jim Gober had a code of ethics that he adhered to throughout his life. His code made him the man he was, and it cost him dearly. It was an ethic based in loyalty, and it was the central force in his life story. It compelled him to leave home at fifteen. It drove him to cowboying on the ranges of West Texas. It catapulted him into politics as the youngest elected sheriff in the United States. It made him the target of hired assassins . . . Read more
High Calling: The Courageous Life and Faith of Space Shuttle Columbia Commander Rick Husband
Describes the late Rick Husband's life-long dream of becoming an astronaut, the spiritual crossroads that enabled him to enter into NASA's space shuttle program, and the difficult process that considerably shaped his faith and eventually led to his journey into space . . . Read more Look Inside
Blessèd Assurance: At Home with the Bomb in Amarillo, Texas
In 1982, with Cold War anxieties running high, A.G. Mojtabai set out for Amarillo, Texas, home of Pantex, the final assembly plant for all nuclear weapons in the United States. Through the lens of this particular city, she sought to focus on our adaptation as a nation to the threat of nuclear war. Her interviews began with Pantex workers assured of both the necessity and the safety of the work that they did, and in the steady, beneficent, advance of science. Working alongside them were fundamentalist Christians who believed . . . Blessed Assurance won the year's Lillian Smith Award for the best book about the South in 1986 . . . Read more
Amarillo Slim in a World Full of Fat People: The Memoirs of the Greatest Gambler Who Ever Lived
"If there's anything I'll argue about, I'll either bet on it or shut up. And since it's not becoming for a cowboy to be arguing, I've made a few wagers in my day. But in my humble opinion, I'm no hustler. You see, neighbor, I never go looking for a sucker. I look for a champion and make a sucker out of him."
. . . Read more and Look inside
Panhandle Tidbits
Lana Barnett is a freelance writer who loves any, and everything about the Texas Panhandle.She has studied and promoted Texas since publishing her first book: Presenting the Texas Panhandle in 1979. The book was at the time required reading for history majors at West Texas State University. More recently she has published two books on Panhandle murders, Lonely Graves, A Texas Murder Trilogy, and Murder Book, Second in the Lonely Graves series. Each book contains three early murders in the Panhandle . . . Read More and Look Inside
Twenty-Four Karat, the Jack B. Kelley Story
So often poets, artists, musicians, and writers are not recognized until after their death. The prophet is often without honor in his own land. And, to an extent, that is true in Jack B. Kelley's case. Even years after his death, Jack's achievements were not well known to most of his neighbors. Jack Kelley's success was always one of the best kept secrets in Amarillo, the hometown Jack adopted at age six . . . Read more
Amarillo: The Story of a Western Town
by Paul H. Carlson
Named by True West magazine as one of the fifty most Western towns in America, this city of 176,000 people remains rooted in its Western past―yet at the same time Amarillo's background and outlook have a distinctly Midwestern flavor. In this book, the first comprehensive history of Amarillo, Paul H. Carlson explores the city and its environs, from the first peoples who settled in the area to Amarillo's current position as the marketing and commercial hub of a broad region . . . Read more and Look Inside
I Never Worked In Pocatello — The Life and Times of Santa Fe Railroad's Paul T. Collins
The story of Paul T. Collins's life working on the Atchison, Topeka and Santa Fe Railroad, I Never Worked In Pocatello —The Life and Times of Santa Fe Railroad's Paul T. Collins, is the story of the changes in railroading from the end of the Nineteenth Century to past the middle of the Twentieth Century. Amarillo, Texas was his final stop while working with the Santa Fe where he served as rules examiner for the railroad, creating new and better rules while butting heads with his fellow examiners, and sometimes his superiors. He ended his fifty-one years of service with the Santa Fe at this station . ., . Read more and Look Inside
Lonely Graves: a Texas Murder Trilogy
June 1930: in Amarillo, Texas a peaceful summer morning turns into pandemonium when a blonde colored Durant drives through . . .
October 1897: a Panhandle, Texas Methodist minister decides to slip his faithful wife of seventeen years a lethal dose of strychnine the day after their 17th wedding anniversary . . .
Christmas Eve 1926: authorities in Farwell, Texas discover the worst case of family annihilation this country has ever recorded after unearthing the remains of eight children and their mother
African Americans in Amarillo
Amarillo became a town in 1887 when merchants opened stores to cater to railroad workers. The first African Americans in the area were Jerry Callaway, who came to the area in 1888 with a white family, and Mathew "Bones" Hooks, a highly respected cowboy who moved to Amarillo in 1900 and later worked for the railroad. By 1908, five African American families had moved to Amarillo. The black community grew and people established churches, businesses, and schools. With the 1950s and 1960s, Amarillo citizens participated , . . Read more Look Inside
Amarillo (Postcard History)
Many people are surprised to learn that the city of Amarillo was actually founded twice. Originally settled by J. T. Berry in April 1887 and known as Oneida, the site of the town was located on such low ground that many residents feared it was susceptible to flooding. In 1888, one concerned resident named Henry B. Sanborn began buying land a mile east of the site as a potential place to relocate the town. In 1889, the town's fears came to fruition when heavy rains flooded the original . , , Read more and Look Inside
Amarillo's Historic Wolflin District
In September 1887, J. T. Berry bought 640 acres of school land from the State of Texas. Several years earlier, this raw section of prairie had been home to buffalo herds and the Kiowa and Comanche Nations. Berry could not have known that this land would one day become home to cattle barons, oil and gas pioneers, and a U.S. ambassador. When Charles Oldham Wolflin married Alpha Eunice McVean a decade later and acquired that same section of land, he never dreamed that his son would develop that land from a dairy farm into a premier residential development . . . Read More Look Inside
With Words We Weave: Texas High Plains Writers 2020 Anthology
For 100 years, Texas High Plains Writers has supported and encouraged writers to craft their stories. In this centennial anthology, you will find a collection of short stories, inspirational essays, and poetry that celebrates the past. Thirty-four of our talented members contributed humor, heartache, and truth to these pages. You will discover works from best-selling authors and first-timers nestled together.A cunning escape, mischievous family pets, and many walks through memory lanes... These historic tales are truly a labor of love . . . Read more Look Inside
Where Do You Get Your Stories?:
A Collection of Columns by Jon Mark Beilue
by Amarillo Globe-News
Where Do You Get Your Stories? is a question Jon Mark Beilue hears often, and also the title of his latest book. That question, of where Beilue is going to get the next story, was one that consumed him, particularly his last 12 years as a columnist. In Beilue's words, "I had to fill a blank screen at least three times a week, and so finding stories was a constant churn. Sometimes it was a phone call or email, other times it was something I read. It could be an event, a scene, an observation or simply the evolving of life. I didn't care how I got them . . . Read More
Amarillo
In the Texas Panhandle town of Amarillo, New York attorney Max Friedman is assigned to represent a nightmare client. Joe Wagner is a violent man, dangerous both to family and friends. As Max builds his defense case for murder, he reveals a reason for Joe's violence. But is it a justification? The characters whom Max meets during the course of his investigation include Smith Dixon, a career criminal trying to change the course of his life; Carl Puente, a gambler desperate for a big score; Carl's brother-in-law Freddie Odom, a family man drowning in alcoholism , , , Read more Look Inside
Anatomy of a Kidnapping: A Doctor's Story
In March 2005, Dr. Steven Berk was kidnapped in Amarillo, Texas, by a dangerous and enigmatic criminal who entered his home, armed with a shotgun, through an open garage door. Dr. Berk's experiences and training as a physician, especially his understanding of Sir William Osler's treatise on aequanimitas, enabled him to keep his family safe, establish rapport with his kidnapper, and bring his captor to justice . . . Read more Look Inside
The Bone Pickers
Against the flamboyant background of the "Golden Spread," the oil-rich Panhandle of the late 1950s, Al Dewlen has poised a full-scale and truly original novel of one Texas family―the Mungers of Amarillo. The six Munger siblings are the heirs of hard-drinking, hardscrabble farmer Cecil Munger, who in one generation brought his family from Dust Bowl poverty to unfathomable wealth. Sitting as directors of the several corporations in which their wealth resides, five of the siblings―Spain, Texas, Laska, China, and Bethel―struggle to balance their past with their present . . . Read more Look Inside
The AC Story:
Journal of a College: Amarillo College, Texas
The History of Amarillo College in Texas from its founding in 1929 to 1979. Contains lists of administrators and faculty, student leaders and scholarship holders and more.
Listen to the Wind
Award-winning Amarillo Globe-News columnist David Horsley is back with another collection of his personal essays from the newspaper. This time David's readers have selected over 100 of his best columns on topics ranging from the humorous to the serious to the sublime. Here are light-hearted favorites such as Chaw McCuddy's review of violinist Itzhak Perlman, David's encounter with a feral cat named Osama and the women who defended it, The Colonoscopy Chronicles, the true story of a black bra and how it inflamed readers' imaginations . . . Read more Look Inside
Take Two Aspirins, But Don't Call Me in the Morning
In response to the stifling socialism of the Canadian health care system and the intolerably long Canadian winters, Dr. Mel Genraich made a life-altering decision: leave Toronto for good, and seek his fortune in Texas. "I've been fortunate (and conniving) enough to have lived in some great homes in such great cities as Toronto, Houston, Lubbock, Oklahoma City, Odessa, Monahans, Levelland, and now back in Lubbock TX. In Amarillo, Texas, I lived in an exclusive country club community right up to and after, my second divorce . . . Read more, Look inside
Indians, Cattle, Ships, and Oil:
by Amarillo Author Donald F. Schofield
The story of an American tycoon . . . Look inside
Blood Will Tell:
The Murder Trials of T. Cullen Davis
The fast living of the Texas rich is the focal point of this true crime story about the murder trials of a multimillionaire oilman acquitted of the murder of his daughter and his wife's lover . . .
In the Cattle Country: History of Potter County, 1887-1966
Chickens in the Attic: MEMORIES 1934-1949, Growing Up in Amarillo in the Texas Panhandle
Lines To My Son
by Clarence N Cosby from Canyon Texas
The Golden Spread: An Illustrated History of Amarillo and the Texas Panhandle
Amarillo, Texas Two--The First Hundred Years: A Picture Postcard History
The Grand March - A Pictorial History of the First Baptist Church, Amarillo Texas 1889-1989
More Than Brick and Mortar, West Texas State College 1909-1959
ONE SHORT SLEEP PAST. A Profile of Amarillo in the Thirties
Light 'n hitch;: A collection of historical writing depicting life on the High Plains
The High Plains cattle country was in many ways the last frontier in America. In the Seventies, a circle of three hundred miles diameter could have been drawn -from, a point in the center of the Panhandle of Texas: without encompassing a mile of railroad or a town of any size. It was but a stretch of free grass. Two obstacles stood in the way of development: buffalo and Indians. In the Seventies, with no thought of ultimate benefit to cowmen, buffalo hunters and United States soldiers moved into the area. . . Read More
Whistling Willie from Amarillo, Texas
Everybody knows that the Texas Rangers are the roughest, toughest, meanest, leanest good guys around. Willie knows he can be just like them, but all the Texas Rangers see is someone who smiles too much, whistles all the time, and has a belly that's just too big. Dejected, Willie covers his sadness with a smile and looks for a way to prove himself to the Texas Rangers. His opportunity comes on a July 4th that's hot enough to fry an egg on a sidewalk. When no-good varmints rustle the town's cold . . . Read more
Spirits of the Border: School Spirits
In this newest installment of this award winning series, the authors look at what they like to call School Spirits! Find Haunted Texas schools in Alpine, Alvin, Amarillo, Arlington, Austin, Beaumont, Belton, Big Sandy, Big Spring, . . . Read more




What's your Favorite Book about a Texas County, Town, Person or Place? Here's our best reads list County by County






Potter County People
Potter County Appraisal District
Potter County TX Experts
Potter County Products
Potter County Unclaimed Estates
Books about Potter County