Directory of Counties in Texas
Ector County Appraisal District (CAD)
Books about Ector County People and Places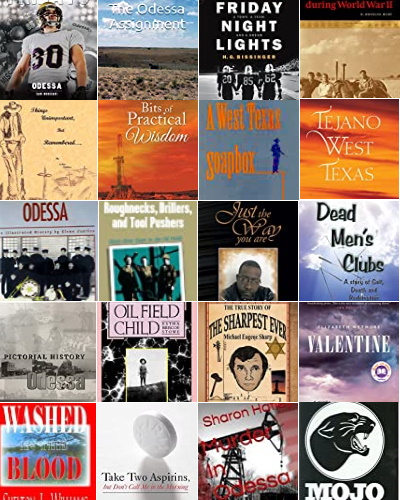 Washed in the Blood - Murder of Betty Jean Williams in Odessa, Texas
The Secret of Mojo: The Story of the Odessa, Texas, Permian High School Football Team
Odessa: An Illustrated History
Murder In Odessa
Ector County, Texas: 125 Years of History
Odessa - A Pictorial History
Valentine: A Novel - Itís February 1976, and Odessa, Texas . . .
Down and Out - Candace Downs returns to the parched and dusty oil-town of Odessa . .




Ector County Estates with Unclaimed Money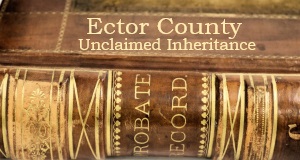 These Deceased Residents of Ector County Left a total $409,493 in Unclaimed Money for their heirs. Please share this with your family and friends from Odessa, Gardendale and Goldsmith to let them know how to claim their inheritance from the Texas Comptroller's Office. . . see the list
Ector County Property Tax Exemptions
The Ector County Appraisal Office in Odessa has information on exemptions for property tax that could save you money. A Homestead exemption alone could reduce your property taxes by up to $1500 a year and it's available to all homeowners who live in their home. If you are over 65, disabled, or a veteran, you may qualify for additional exemptions. Contact the Ector County Appraisal Office for more information.
Featured Ector County Item

Rare Artifacts, Memorabilia, Ancestry and History Records from Odessa, Goldsmith, Gardendale and West Odessa
What's your Favorite Book about a Texas County, Town, Person or Place? Here's our best reads list County by County