Eddie Dean was born as Edgar Dean Glosup July 9, 1907 in Posey, Texas, a tiny community about 11 miles southeast of Lubbock and 5 miles northwest of Slaton. Eddie's father was a farmer and his mother taught singing lessons and taught her son to harmonize. When he was 19 he moved with his brother, Jimmie, to Chicago to see if he could make it in on the radio. He made a name for himself as a country-western singer in the '30s. His best known song was "I Dreamed Of A Hill-Billy Heaven" in 1955, which became an even greater hit for Tex Ritter in 1961. Both, Roy Rogers and Gene Autry said he was the best cowboy singer of all time.

In 1937 he moved to Hollywood to try his hand as an actor. His first part came in Manhattan Love Song in 1934, but he could only land bit parts in features and musical shorts. His career started to take off in the early 1940s, though, and by 1945 he was among the more popular of the cowboy stars. Several factors prevented him from rising farther as an actor. Dean had a stolid, somewhat dour screen personality and the fact that he was under contract to low-rent PRC Pictures, whose westerns were not particularly popular among aficionados. Add to this the unfortunate fact that the singing cowboy craze had pretty much run its course by the time he came along.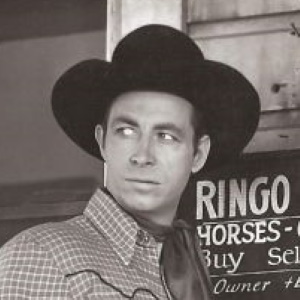 Dean, also appeared in the short-running ABC television western series, The Marshal of Gunsight Pass, broadcast live in 1950 to West Coast stations. Long after The Marshal of Gunsight Pass ended, Dean appeared as Trail Boss Tim in a 1962 television short called The Night Rider, with Johnny Cash as Johnny Laredo and fellow Texan Dick Jones, from Snyder, as Billy Joe. Dean thereafter guest starred twice on CBS's The Beverly Hillbillies sitcom with Buddy Ebsen in the 1963 episodes "Elly's Animals" and in the role of Sergeant Dean in "Jed Plays Solomon".

With his acting career waning, Dean continued recording for small labels and was a founder of the Academy of Country Music. One of Eddie's last records, recorded in the 1990s and released on The Bradlley Brothers record label was a country song entitled 'Cold Texas Beer' which harkened back to Eddie's West Texas roots.

Dean was a member of the Cowboy Hall of Fame and the Western Music Association Hall of Fame. He is represented on albums "Eddie Dean In Concert" (also on video) on the BGR label and "Eddie Dean Collectors' Edition" on Simitar Records.

Dean died March 4, 1999 of emphysema when he was 92. Two weeks after his death, his star was added to the Palm Springs Walk of Stars.