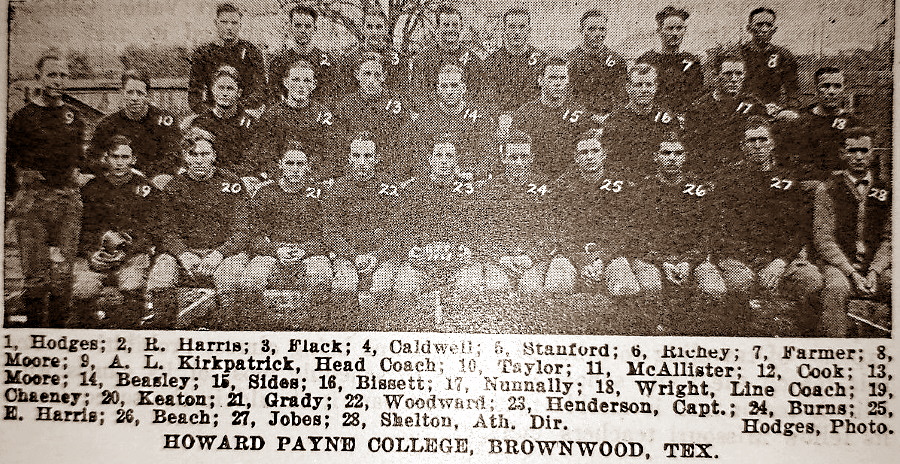 Howard Payne Football Team in 1923 Brownwood Texas
Large Photo identifies 1923 Howard Payne College Football players in Brownwood: Hodges, Harris, Flack, Caldwell, Stanford, Richey Farmer, Moore, Kirkpatrick, Beasley, Sides, Bissett, Nunnaly, Wright, Chaeney, Keaton, Grady, Woodward, Henderson, Burns, Beach, Jobes and Shelton.
Books about Brown County People & Places

A Pictorial History of Brown County: The Early Years
Freemasonry in Brownwood: A centennial history of Brownwood Lodge No. 279
Rubber Guns: 'Bout A Little Texas Boy in a Texas 20's Town, by William Ellis from Brownwood
Something about Brown;: A history of Brown County, Texas
High School Yearbooks from Brownwood, Bangs and Blanket Texas
. . . See details and more books about Brown County
Featured Item from Brown County Texas

Rare Artifacts, Memorabilia, Ancestry and History Records from Brownwood, Bangs, Early, Blanket, Lake Brownwood and Thunderbird Bay See All Brown County Treasures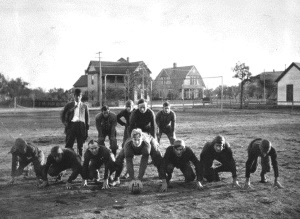 Howard Payne Football Team 1909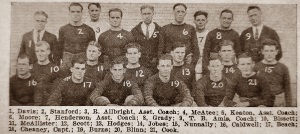 Howard Payne Football Team 1924 Brownwood Texas
Davis, Stanford, R. Allbright, McAtee, Keaton, Moore, Henderson, Grady, T. B. Amis, Bissett, Mcallister, Scott, Hodges, Jobes, Nunnaly, Caldwell, Beach, Dheaney, Burns, Blinn and Cook.
Howard Payne Football Team in 1925 Brownwood Texas
T.B. Amis, J. Allen, Stanford, Wright, Boyd, Jobes, J.B. Shirey, Cook, Caldwell, M. Hodges, W. Hodges, McAllister, Brown, Nunnally, Cottle, E.B. Grady, Blinn, F. Grady, Bissett, Burns, Etheridge and Scott.




What's your Favorite Book about a Texas County, Town, Person or Place? Here's our best reads list County by County






Howard Payne College Collectibles