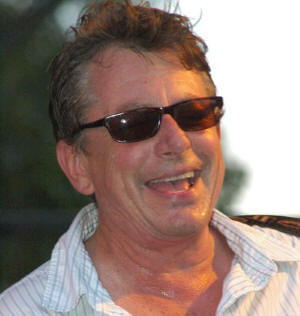 Photo Courtesy Steve Hopson
Joe Ely
Born in Amarillo February 9, 1947, Ely spent his formative years from age 12 in Lubbock, Texas, and attended Monterey High School.
In 1970, with fellow Lubbock musicians Jimmie Dale Gilmore and Butch Hancock, he formed the Flatlanders. Ely has had a genre-crossing career, performing with Bruce Springsteen, Uncle Tupelo, Los Super Seven, the Chieftains and James McMurtry in addition to his early work with the Clash and more recent acoustic tours with Lyle Lovett, John Hiatt, and Guy Clark.
In 1972, the band released their first and only album, Now Again.Since the band's initial breakup just after their first album was cut, the three musicians have followed individual paths,. but have appeared together on each other's albums.
Ely's own first as a singer-songwriter was a self-titled album was released in 1977. The album includes several tracks written by Ely's band mates from The Flatlanders. The album Joe Ely and the follow-up album, Honky Tonk Masquerade, helped establish Ely as a solo artist.
In the late 1990s, Ely was asked to write songs for the soundtrack of Robert Redford's movie The Horse Whisperer, which led to re-forming The Flatlanders with Gilmore and Hancock. A new album from the trio followed in 2002, with a third in 2004. The Flatlanders released their newest album Hills and Valleys on March 31, 2009.
n 2011, Ely released the critically acclaimed album, Satisfied At Last.

In September 2015, Ely released Panhandle Rambler, an album with a reflective west Texas feel. Lonestar Music Magazine says "the title fits the record just right, neatly framing a dozen songs that fit together thematically like a map of both the West Texas landscape and of Ely's epic decades-spanning musical ramble.[6]

Ely spent 2016 as the reigning "Texas State Musician", a one-year designation which he formally accepted in a ceremony at the State Legislature that spring.
References:
Joe Ely on Wikipedia