Davick Services on Facebook
True Stories of Amazing People and Places in Texas
Life in Kimble County Tx 1940
Kimble County, Texas in 1940 as pictured in archived government photographs, vintage postcards, old school yearbooks and newspapers. You can browse and view more than a thousand images of early life in Texas in eBay's Historical Texas Collection. . .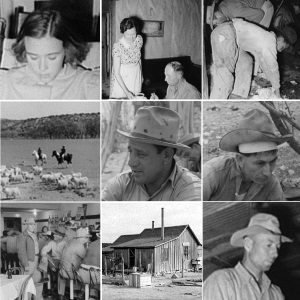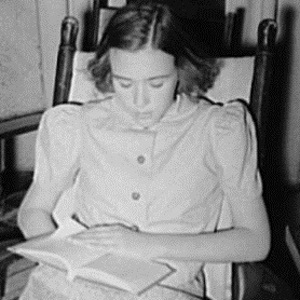 Daughter of Sheep and Goat Rancher Kimble County, Tx 1940
Sheep and goat rancher's daughter studies in rocking chair with quilt on her lap.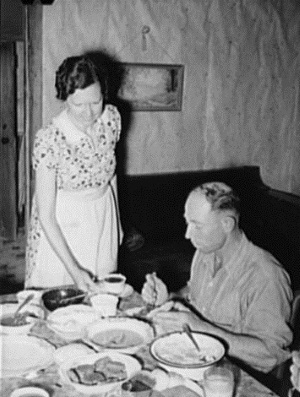 Dinner on ranch Kimble County Tx 1940
Rancher and wife sit down for dinner in Kimble County Texas in 1940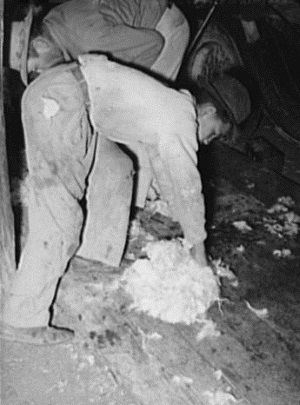 Gathering up mohair Kimble County Tx 1940
Shearers pick up mohair after shearing angora goats in Kimble County Texas in 1940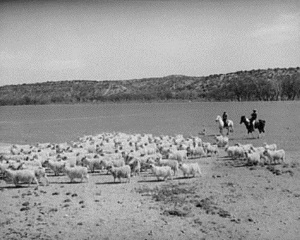 Sheep Ranch in Kimble County Tx 1940
"Cowboys" herd sheep and goats on ranch in Kimble County.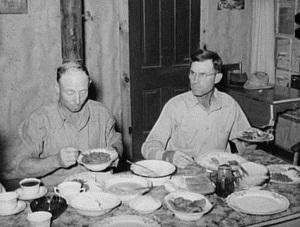 Goat Ranchers Dinner 1940
After a hard day's work, ranch family sits down for meal with family and friends in 1940.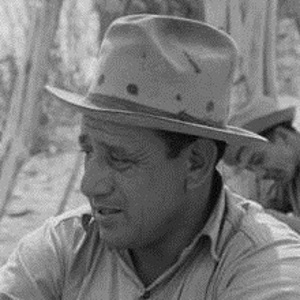 Goat Shearer Kimble County Tx 1940
Kimble County goat shearer takes a break from the back breaking work in 1940.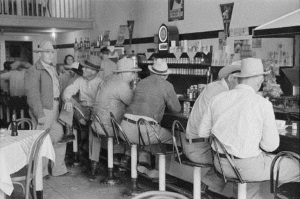 Kimble County Ranchers Gather at Cafe in Junction Texas in 1940
Pinkie Pinkerton stands in local cafe visiting with local ranchers and townsmen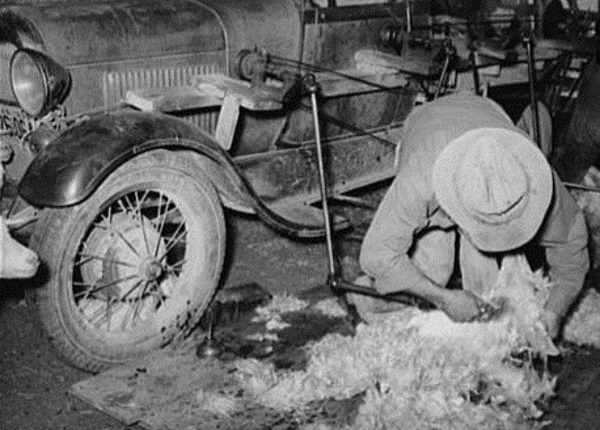 Shearing a Goat with a Model
A
In 1940 motorized goat shearing was made possible by powering the device with a Model A through belts connected to the axle.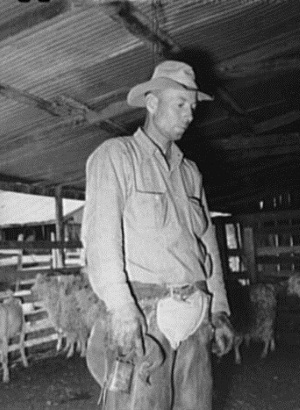 Ranchman in Kimble County Texas in 1940
Exhausted and worried rancher pauses during sheep shearing in Kimble County Texas in 1940. He has a lot riding on this year's crop of wool and mohair.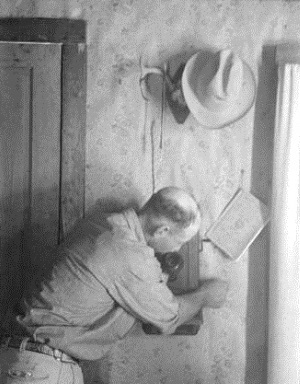 Making a telephone call, Kimble County, Tx 1940
With hat hanging from antelope horns, Kimble County rancher cranks phone to make a call in 1940.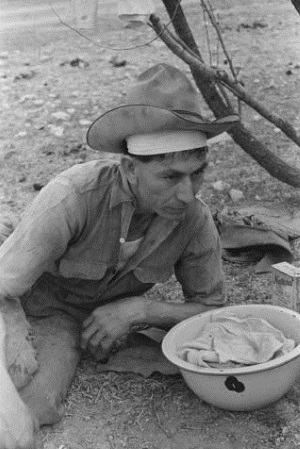 Migrant Shearer in Kimble County Texas in 1940
Unnamed migrant sheep and goat shearer takes a break to wash hands in washbowl.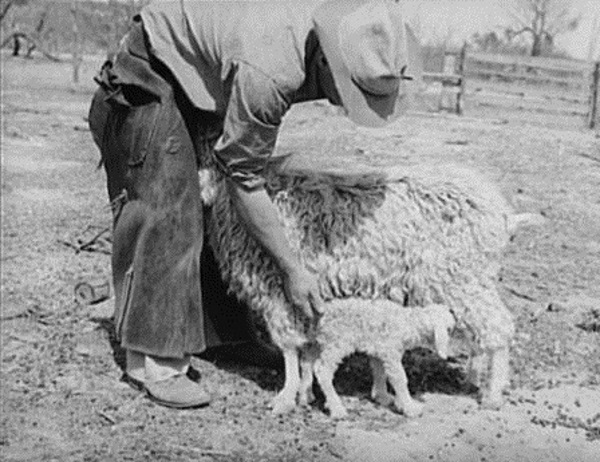 Ranchman Encourages Baby Goat
Rancher encourages newborn goat to suckle its mother in 1940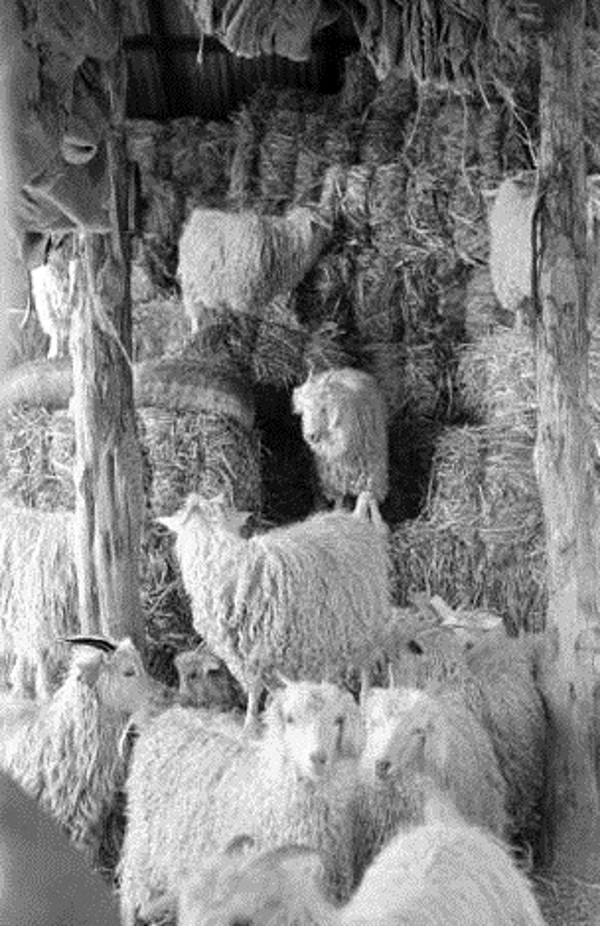 Goats in Hay Barn
Angora goats playing and eating in Kimble County hay barn in 1940
Kimble Wool & Mohair Company, Junction, Texas in 1940
Books about Kimble County People and Places
Resources:

Davick Services on Facebook: True Stories of Amazing People and Places in Texas

Vintage Texas Photos (eBay)

Davick Services (Facebook)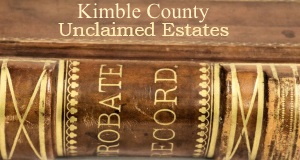 Kimble County Unclaimed Estates
These Deceased Residents of Kimble County Left a total $16,733 in Unclaimed Money for their heirs. Know the Heirs? Share this with your list of Family and Friends from Junction, Roosevelt and London Texas . . . see the list
Historical Treasures from Kimble County Texas

Find unique artifacts, memorabilia, historical and ancestry records in these treasures from Junction, London, Cleo, Noxville, Roosevelt and Segovia.
Related Articles






What's your Favorite Book about a Texas County, Town, Person or Place? Here's our best reads list County by County