Famous People from Midland County Texas
Laura Bush

Laura Lane Welch was born on November 4, 1946 in Midland, Texas, the only child of Harold Welch and Jenna Louise Hawkins Welch. She attended James Bowie Elementary School, San Jacinto Junior High School, and Robert E. Lee High School in Midland and graduated from Lee HS in 1964.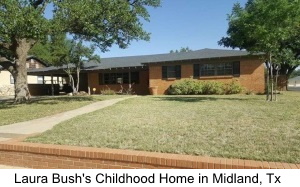 Laura Bush's Childhood Home in Midland, Tx
She met George W. Bush in July 1977 when mutual friends Joe and Jan O'Neill invited her and Bush to a backyard barbecue at their home. He proposed to her at the end of September and they were married on November 5 of that year at the First United Methodist Church in Midland, the same church in which she had been baptized. The couple settled in Midland.
The year after their marriage, the couple began campaigning for George W. Bush's 1978 Congressional candidacy. According to George Bush, when he asked her to marry him, she had said, "Yes. But only if you promise me that I'll never have to make a campaign speech. "She soon relented, and gave her first stump speech for him in 1978 on the courthouse steps in Muleshoe, Texas.
Resources:
All Things Midland Texas Facebook Group