Robosigners in Your Records
Known and Suspected Robo-Signers Adams to Arias
Robo-signers are mortgage lending company employees who signed off on mortgage and foreclosure documents without reviewing them, as the law requires. If your mortgage or foreclosure documents contain signatures of known robosigners you may qualify for judicial foreclosure reversal or mortgage nullification.
Adams, Muriel
Afzal, Ahmad
Aguilar, Greene Angela
Aguilar, Ricki
Agular, Karla
Akpanah, Delia
Alagic, Sanela
Alanis, Angelica
Albertson, Al-Hammadi
Alexander, Regina
Alexander, Sandy
Alfonso, Luisa
Al-Hammadi, Wendy Albertson
Allen, Christina
Allison, Lisa
Altman, Robert
Amico, Christopher
Anderson, Christine
Anderson, Diana
Anderson, Earitha
Anderson, Scott
Antonelli, Anita
Arango, Patricia
Arce, Michael Matthew
Arias, Letic
Arias, Leticia
Documents and Links
Banks Issuing Robosigner Foreclosure Settlement Checks
The five largest mortgage servicers in the country were sued for "issuance of improper mortgages, premature and unauthorized foreclosures, violation of service members' and other homeowners' rights and protections, the use of and false and deceptive affidavits and other documents, and the waste and abuse of taxpayer funds." Florida Times Union
Liquenda Allotey Signature found in Lubbock County Records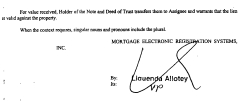 Robosigner Greg Allen signature found in MERS assignment filed in Palm Beach County Florida.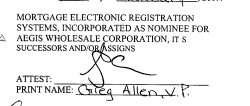 Christina Allen signature as seen in video report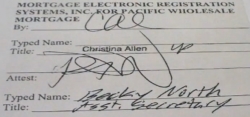 Get a Fast, FREE Personal Evaluation of your mortgage or foreclosure defense case from real estate lawyers who want to help you at LegalMatch. Start Now!
Suspected Robosigners
Sorted by Last Name
Related and Similar Stories
Banks Slash $50 billion off debt owed by borrowers with "robo-signed" documents
Criminal Links to Government Web Sites

Scammers, stalkers, terrorists and murderers have been feeding on information served to them by local, state, and federal Web sites for more than twenty years
Data Sources For This Article

ProTitleUSA Robo-Signer Search
This website is not affiliated with any government organization, party or program. News for Public Officials is dedicated to providing news, editorials and information that may help elected officials better serve the people who elect them. The information and notices contained on this website are intended as general research and information and are expressly not intended, and should not be regarded, as financial or legal advice. We attempt to ensure that the material contained on the web-site is accurate and complete at the date first published, however you should recognize that information contained on this web-site may become out of date over time and we may be compensated for referrals. Privacy policy