Potter County Experts
Amarillo, Texas
No one knows Potter County real estate, title search and court records better than the people who are in the courthouse everyday working directly with local officials to bring you the kind of professional service only a local expert can.. Connect with Potter County Abstractors, Public Record Retrievers, Historians, Genealogists and Legal Service Professionals. You'll find Potter County Clerk, Potter County Appraisal District, abstractors, county record retrievers, and real estate in Amarillo, Bishop Hills, Ady, Boden, Bushland, Chunky, Cliffside, and Gentry Texas.
| | | |
| --- | --- | --- |
| Potter County Clerk | 806-379-2250 | Amarillo, Tx |
| | 806-358-1601 | Amarillo, Tx |
Potter County Abstractors and Courthouse Researchers
When law firms, lenders, energy production companies and national title companies need public record information that is accurate and official they rely on local abstractors, document retrievers and landman who physically inspect the Potter County records at the courthouse.
Get Email Updates
Davick Services
Title Abstracting and courthouse records research direct to you from 111 Rural Texas Counties since 1989. $ 1000,000 Errors & Omissions Protection. Qualified, professional abstractors with years of experience. Ph (806) 832-4349 Email www.DavickServices.com
Compare Potter County Texas with Other Counties
Related Articles





In the Cattle Country: History of Potter County, 1887-1966
A Strong West Wind: A Memoir
Cowboy Justice: Tale of a Texas Lawman
Whistling Willie from Amarillo, Texas
Chickens in the Attic: MEMORIES 1934-1949, Growing Up in Amarillo
Blessèd Assurance: At Home with the Bomb in Amarillo, Texas
Amarillo Slim in a World Full of Fat People: The Memoirs of the Greatest Gambler Who Ever Lived
. . . more books about Potter County People and Places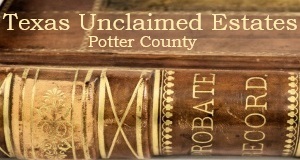 Potter County Unclaimed Estates
Texas is holding over $400,000 for the rightful heirs to these Potter County estates.
Know the Heirs? Let them know. See the List
This website is not affiliated with any government organization, party or program. DavickServices TXDILAR and News for Public Officials are dedicated to providing news, editorials and information that may help you make better financial decisions. The information and notices contained on this website are intended as general research and information and are expressly not intended, and should not be regarded, as financial or legal advice. We attempt to ensure that the material contained on the web-site is accurate and complete at the date first published, however you should recognize that information contained on this web-site may become out of date over time. Privacy policy